I've got a very brief review for you of a product I purchased for myself for my use obviously. It's just a simple USB adapter that let's me plug a regular USB device into a microUSB port and it works fine. I've tested it with Android and Windows tables and phones with no issues. Read on to learn more…
Tech Specs,Features or the Basic Info
Micro USB Male to USB A Female Adapter
This adapter is a Micro USB to USB Adapter for quick and easy use.
USB Micro B (Male) to USB A (Female) Adapter General Features: Black color
USB A (Female) connector to USB Micro B (Male) connector
Ideal for portable digital devices with USB Micro B ports Regulatory Approvals: RoHS compliant
Item Weight: 0.3 ounces
Item Dimensions: L x W x H: 1.80 x 0.40 x 0.40 inches
Price: $1.30 (from Amazon at time of review)
Testing and Usage
Packaging is just a zip style bag with a label on it, nothing special.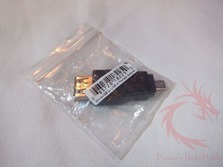 It's simple product with metal connectors and a plastic center. It seems well made for what it is, I'm been using it for a while now with no issues. I keep it in my desk drawer actually so it's always handy.
One side is a standard female USB connection like you would find on your computer for example. The other side is a male micro USB connector.
I tested the adapter with my Samsung Galaxy S6 Android phone, an Android tablet and a Windows 10 tablet and all three recognized it and could read and write to and from USB drives so I would have to say it works just fine.
Summary and Comments
It's a very simple product that is very handy for me.
It works with the devices I tested it with, I could read and write to and from USB flash drives and that's what I wanted it for.
I also used it as an adapter with my Windows tablet to use a wireless mouse with it and it worked as well. The mouse is RF and uses a tiny USB adapter as the receiver which plugs in via USB and then the mouse connects to it and it works perfectly fine with my Windows tablet.

DragonSteelMods gives the Micro USB Male to USB A Female Adapter a 5 out of 5 score.

Pros:
+Very inexpensive
+Works with Android and Windows phones/tablets
+Small and well made
Cons:
-None

Disclosure: I purchased this product for my personal use and thought a review would benefit other consumers in making an informed purchasing decision.
To learn more about our review policy, testing methods and ratings please see this page.