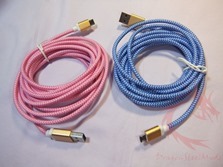 I've got a quick review for you today of some really long micro USB cables from a company called Magic-T. These cables are 10 foot long and they're braided making them durable and tangle-free. All in all these are fine for what they are, well made and they work fine so far. Read on to learn more…
Tech Specs,Features or the Basic Info
Micro USB Cable, Magic-T 10ft/3m Braided Charging Data Cord Charger High Speed USB 2.0 A Male to Micro B for Android, Samsung, HTC, Motorola,
Sprint, Nokia, LG, HP, Sony, Blackberry and More[2-Pack]
10ft/3m – Super Convenient
It allows you to stay within 3 meters around wall charger or laptop while charging phone.
Sync data/ charge with EASE. Just lay on bed or sofa, even go to another room as you like.
Micro USB 2.0 – High Speed
Charge/Sync data at speed up to 2amp/480Mpbs.
Suitable for any devices with micro USB port, like Android phones, cameras, handheld game consoles, kindle, etc.
Durable & Sturdy- Aluminum connector + Braided Jacket
Metal head easily slot in easily but securely.
It fits most cases and won't come off easily.
PVC layer covers inner wire while braided jacket protects PVC layer and wire.
Flexible & Tangle-free
Bears 4000+ times bends.
Easy to roll up if you don't need it.
Don't worry about it will mess or tangle up for long length.
Specifications
Color: Blue, Pink
Length: 3m/10ft
Support: Micro USB 2.0
Price: $8.99 (from Amazon at time of review)
The Review
The cables ship in a zip style plastic bag which is fine, you can reuse the bag for storage or transport if you want which is handy.
I got pink and blue colors for review but they have many other colors available. The cables are 10 foot long and they're covered in a braided material making them stronger than just standard plastic or PVC style cables. They are rather stiff, you can bend them and they'll basically stay that way for the most part or at least temporarily, they're not totally stiff, they are flexible, just not very. They're meant to be non-tangling and they seem to be to me. They seem well made and durable overall.

The micro USB connection on the end is reinforced with a gold colored metal covering which is thin, it should fit fine with cases on your phones. It fit fine using it with my Galaxy S6 with the case on, some cables have thick connectors that don't fit in the opening of the case. The main USB connection has the same gold colored metal covering and it's not much larger than the USB connector so there shouldn't be any fit problem there either.
I tested the cables with a few things and my phone and they worked fine.
The cables should be able to handle up to 2amps of power and I grabbed an AC USB charger/adapter and ran some tests and the highest I got was 1.6amps but that doesn't mean they can't handle 2amps, that just means my devices weren't charging at 2amps at the time.
These cables from Magic-T are nice and long and seem very well made.
I see no problems with them as of now, they work fine.

DragonSteelMods gives the Magic-T 10ft Micro USB Cables a 5 out of 5 score.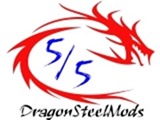 Pros:
+Inexpensive
+Very long
+Seem well made
Cons:
-None so far

Disclosure: This product was given to DragonSteelMods for review by the company for review purposes only, and is not considered by us as payment for the review; we do not, never have, and never will, accept payment from companies to review their products.
To learn more about our review policy, testing methods and ratings please see this page.