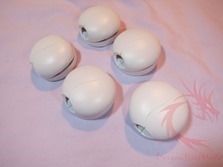 Up for review today I've got another fairly simple product but one that I've come to like and find very useful. There's actually five of them in the pack and they're cable clips or cable organizers that are simple but well made and very useful. Read on to learn more…
Tech Specs,Features or the Basic Info
Mudder Upgraded Cable Clip Desktop Cable Organizer Cable Management Heavy-duty and Durable
Clean up cable clutter once and for all with these quick action clips, essential for the home or office.
Mudder Cable Clamp Gadgets help to arrange your cables tidy in your home or office room. It works well for power cords, computer cables, VGA DVI cables, USB connection cords and all wires within 0.4in (10mm) in diameter. You can even tie several wires in one clip.
-Sold in packs of five with best value.
-Great gadgets for keeping your cables neat and organized. Make your desktop and office looked clean and tidy.
-Perfect for power cords, USB cords, cell phone chargers, audio cables, headphones, FireWire cords, and more.
-Portable to carry and easy to use: mount to a desk, wall, table or other flat surface with the best 3M adhesive tape.
-Hold wires up to 0.4in (10 mm) in diameter.
Price: $9.99 (from Amazon at time of review)
Testing and Usage
The package for these clips is just a heavy duty zip style bag which works fine.
The clips themselves are white in color and remind me little seashells really. They are open on both ends and have a wavy line going across the top center.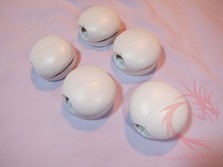 On the back you'll find squares of 3M adhesive tape so you can mount the organizers permanently if need be.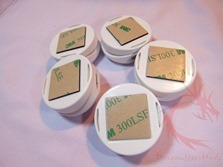 The clips open up in the center and they snap shut with an audible snapping sound. They close tightly but not very tight, more then tight enough to hold a cable in place though.
To use the clips you just open them up, put a cable in and then snap them closed. Very simple to use.
I don't have enough room on my desk so I actually have a table next to my desk for overflow. I've been using a binder clip for my cables and it sits between the desk and table and rests in that space. It's worked for years for me, but it's not the nicest system.
I decided to do something similar to my binder clip by sticking two Mudder clips together with their adhesive tape back to back. The clips are nice and fat so they will not fall between my desk and table and it looks a lot nicer than the binder clip for sure. That's off to my right side where the computer is. I'm going to do it again with two more cables as soon as I get around to running the cables back behind my computer and under the table.
I recently got a very nice 10 foot micro USB cable for review and I decided to use that on the left side of my desk as I keep my tablet over there normally. The cable was just sitting there loosely on my desk but I decided to use one of the clips and attach it to the bottom of the shelf I have there. Now the cable hangs from the shelf and it's out of the way. When I need it I just pull it down and then I can tuck it back up there when I'm done and it's out of the way. The adhesive is fine for mounting the clip upside down, it seems to be staying there just fine and it's been there for a couple weeks now. The clip closes tightly enough to hold the cable in it just fine and the opening is wide enough that the cable easily slides in and out of it as I need it.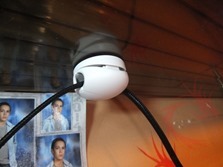 Summary and Comments
I love using things other than what they're for. These clips are most likely made to be stuck to a flat surface on your desk and they just stay there permanently but I decided to do something different with them and it works fine for me.
These clips can be used for lots of things. You could stick them to your desk and they'll hold your cables. You could stick them to a wall to hold a networking cable for example, or you could do what I did and do something different.
The clips seems well made, the spring is good enough to hold the cables in place and the holes are large enough to allow the cables to easily slip through them.
I love these, and I think I need to get some more.
As of right now these are ten dollars for five of them and that's about two dollars each. It might seem expensive, but it all depends on how useful you'll find them. I think they're worth it, I like them, they do what I need them to do and they look nice.

DragonSteelMods gives the Mudder Cable Clip Desktop Cable Organizers a 5 out of 5 score and our Recommended Award as well.
Pros:
+Easy to use

+Well made

+Good adhesive
Cons:
–
None that I could find

–
–

Disclosure: This product was given to DragonSteelMods for review by the company for review purposes only, and is not considered by us as payment for the review; we do not, never have, and never will, accept payment from companies to review their products.
To learn more about our review policy, testing methods and ratings please see this page.