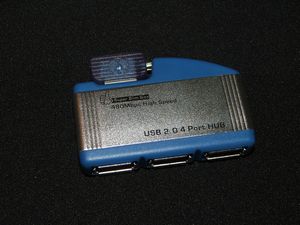 Many times when using my laptop I've found that I just don't have enough USB connections for things I need to plug in and use, I'm sure a lot of you have run into this problem from time to time as well.
There are all sorts of USB Hubs out there today, but most are usually made of plastic and just not that durable and really won't last long being tossed around in you laptops bag. USBFever has sent me over the tiny Ultra Slim USB 2.0 4 Port Hub that is made from metal and plastic making it very durable and very portable as well. It comes with a built in USB cable as well so you'll never have to worry about loosing or needing to find a USB cable to use with it.
Review: Ultra Slim USB 2.0 4 Port Hub
Tech Specs,Features or the Basic Info:
Product Code#:AL130-A759
Price: US$9.99
Highlights:
Our USB Hub allows you to add more USB peripherals to th ePC, also, it supports to connect USB devices through cascading multiple Hubs.
Features:
– Ultra-Slim (measured: 5.8cm x 4.2 x 1.1 (cm) approx.
– Built-in USB Cable, no need to connect with other USB cable and will never forget to bring the USB Cable
– USB 2.0 and compliant with USB 1.1 as well
– LED indicator (on when power is on)
– Made of high-graded alloy with Metallic Silver Surface
– Expandable to be a hub of chargers if a Power adapter is connected (not included)
Package Contents:
– Ultra Slim USB 2.0 4 Port Hub x 1
A Better Look at Things
:
The Ultra Slim USB 2.0 4 Port Hub comes in the easy to open plastic clamshell type of packaging, you can plainly see the hub through the front of the package and the back has the specs and features listed for you.
The included cable connects into one of the USB ports for storage. There are three USB ports on the front and one on the back edge where the USB cable connects into. As I mentioned it is made of metal, or at least the shell of it is, the rest is plastic. It feels tough and durable so it should last quite a while.
Installation, Testing and Comparison
For my installation and picture purposes it was just easier to use the Ultra Slim USB 2.0 4 Port Hub with a USB extension cable but normally you won't have to with you laptop, you can just plug it right in and you're all set.
The Ultra Slim USB 2.0 4 Port Hub does have an LED on it to indicate power and data transfer as well.
I hooked up my OCZ ATV Turbo 4gig USB drive to both my laptop and the Ultra Slim USB 2.0 4 Port Hub and I found no noticeable difference in speeds.
Of course depending on the power needs of your devices you might need to get the optional external power supply as it only uses the power that is generated from your computers USB port. This is common problem with most USB hubs so it's not something specific to this device.
I really like the fact that this product is made so well, it is very durable and should last quite a long time and be able to withstand lots of abuse. The shell is primarily made from metal and the cable is fairly thick as well.
Summary:
There's really nothing bad to say about this product it does what it is supposed to do.
It's well made, portable and the speeds are comparable to using just a USB connection.
DragonSteelMods gives the Ultra Slim USB 2.0 4 Port Hub a 5 out of 5 score.
Pros:
-Durable, well made
-Very portable
-Very useful
-Inexpensive
Cons:
-None really
I would like to thank USBfever for the chance to review the Ultra Slim USB 2.0 4 Port Hub and for their continued support of DSM.
review# 332