I've said it before I'll say it again, you need a quality power supply in your computer, it doesn't matter what hardware you have in there if you don't have a decent power supply. You could have spent thousands of dollars on parts but if that didn't include a good power supply you'll most likely end up with problems later on with your system related to a faulty PSU. I've had power supplies die on me and it ain't nice when it happens, I had one die and take my motherboard with it, that was a sad day indeed… Anyway, up on the review block today I've got another entry from Ultra in their X3 line of modular power supplies, it's the 800Watt version and it looks just like the other X3s I've reviewed. So continue on to learn more…
Ultra X3 800-Watt Energy Efficient Modular Power Supply
Reviewed by: Kristofer Brozio
Tech Specs,Features or the Basic Info:
Ultra X3 800-Watt Energy Efficient Modular Power Supply
Model: ULT40071
MSRP: $249.99
All New X3 Modular Power Supplies
Ultra pulls out all of the stops for their latest power supply. By combining our "EE" (Energy Efficient) platform, which converts as much as 85% of AC power into DC power during typical loads, with a quiet 135MM ball bearing fan, our patented modular interface and our Limited Lifetime Warranty, Ultra clearly dominates the market with the new X3 power supply!
The X3 is super efficient, using less electricity than other power supplies when providing power to your computer and it generates less heat. Cooling is substantial yet silent by utilizing a thermostatically controlled 135MM ball bearing fan and a honeycomb cut exhaust grill. The X3 also has full range active PFC, which improves apparent power used by the computer. The modular interface allows you to only plug in the cables you actually require for your particular PC. The X3 is ready for even the most high end gaming rigs by providing up to four 6-pin PCI-e connectors, and the 800W and 1000W models provide the newest 8-pin PCI-e connector for the latest 300W graphics cards.
If the you're looking for an efficient, quiet, powerful, modular power supply with a Lifetime Warranty, there's no reason to look any farther than the Ultra X3!
What is FlexForce?
* Manageable – FlexForce Cables are designed to be easily routed and hidden within your case.
* Increased Airflow – Special design promotes easy cable management and 30% better airflow than ordinary cables by easily routing cable under the motherboard, behind drive bays, etc.
* Design – Cables are dressed in a sleek looking titanium like finish.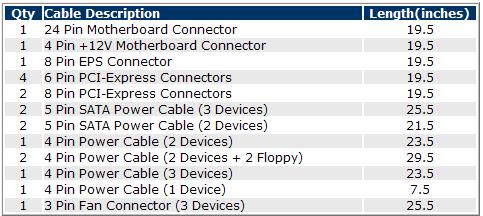 Input:
AC Input Voltage: 115V/230V
AC Input Frequency: 50-60Hz
AC Input Currents:
· 13A (RMS) for 115VAC input
· 8A (RMS) for 230VAC input
Total Output Power: 800W (Full Load, Nominal Input Voltage)
Efficiency: 85% at Typical Load
Additional Features:
* Supports AMD and Intel Motherboards
* Low Acoustic Noise
* 135mm Fan
* Meets ATX Version 2.2, v1.3, and
ATX 12V Version 2.2 Specifications
* Short Circuit Protection
* In-Rush Current Protection
* Thermal Overload Cutoff Protection
* MTBF > 100,000 Hours at Full Load,
110VAC and 25°C Ambient Condition
*FCC and UL Recognized
A Better Look at Things
:
As with the other Ultra X3 power supplies I've reviewed the 800Watt version comes in pretty much the same box, or type of box, it's large and offers quite a bit of protection for the enclosed power supply. Included with the PSU is the owner's manual, installation screws, heavy duty power cord, and a separate box with the modular style cabling.
The 800Watt X3 looks exactly like the others in this line of products, it's not quite black in color, more of a very dark gray.
Of course since this is a modular PSU we have all of the connections on the front, you'll notice also that the contacts are gold plated as well, a nice touch for better conductivity.
To keep this power supply cool Ultra included a quiet 135mm fan that takes up most of the bottom of the unit.
The back of the X3 has the familiar honeycomb style ventilation openings, and a nice large power switch, something I personally like to see on a PSU, I hate having to fumble around trying to find the power button behind my case.
As with any good power supply you'll find the identifying label on one side, upon close inspection at the UL number which is E239028 we find it was made by ANDYSON INTERNATIONAL CO LTD who also makes power supplies for Hiper, Aerocool, Sunbeamtech, Powercooler, some UltraProducts, some GTR, some Sansun. Johnny Guru has a great database setup for you to looks up the makers of pretty much any PSU by the UL number and that's of course where I got this info from, stop by and visit if you ever wonder who really made that PSU in your case.
One thing I truly love about the X3 line of Ultra power supplies is the plethora of cables that comes with them, the 800Watt version is no different, there's more than enough for pretty much any system.
1- 24 Pin Motherboard Connector
1- 4 Pin +12V Motherboard Connector
1- 8 Pin EPS Connector
4- 6 Pin PCI-Express Connectors
2- 8 Pin PCI-Express Connectors
2- 5 Pin SATA Power Cable (3 Devices)
2- 5 Pin SATA Power Cable (2 Devices)
1- 4 Pin Power Cable (2 Devices)
2- 4 Pin Power Cable (2 Devices + 2 Floppy)
1- 4 Pin Power Cable (3 Devices)
1- 4 Pin Power Cable (1 Device)
1- 3 Pin Fan Connector (3 Devices)
Installation, Testing and Comparison
Here's a quick comparison shot to show you the size of the X3 800Watt PSU, it's next to the X3 600Watt power supply, obviously the 800Watt is a bit larger than a standard PSU.
And here's the Ultra X3 800Watt installed in my secondary system, I had no problems installing the Ultra X3 800Watt PSU in my Thermaltake Matrix VX case. The connectors lock into place and stay there, you won't have to worry about them coming loose. The cables are extremely flexible and you can maneuver them into pretty much any shape you need to.
The system consists of:
Gigabyte GA-G33m DS2R mAtx Motherboard
Intel 955 Extreme Edition dual core CPU
-with Noctua NH-U12P Cpu Cooler
Connect3d X1800GTO Video Card
-with Arctic Cooling Accelero S1 VGA Cooler and Turbo Module
hard drive/dvd-rw
For testing of course I got out my old trusty multimeter to check the voltages of the 12volt and 5volt lines. Over the course of two weeks the system was used everyday for various activities that included a bit of gaming. To get the idle voltages I let the system sit doing nothing for one hour, for thirty minutes I monitored the 12v line and for the last thirty minutes I monitored the 5v line. To get load on my system I ran Orthos Stress Prime and numerous runs of 3dMark06 during the same hour time period, doing the same procedure monitoring the 12v line for thirty minutes and the 5v line for thirty minutes. I did this everyday and averaged out the results.
I also found the X3 to be very quiet even under long load times, I never really hard the fan at all over the rest of the system.
Idle:
12v – 12.25v – 12.26v
5v – 5.05v – 5.06v
Load:
12v – 12.24v – 12.25v
5v – 5.05v – 5.06v
As you can see and as is expected there is a slight voltage drop on the 12v line under load but it's very slight, for the most part during testing under loads the 12v line was stable at 12.24v and only slightly fluctuated to 12.25v.
The 12v line is a bit on the high side, but nothing to be worried about, but of course that depends on who you talk to…
Summary:
The Ultra X3 line of power supplies has got everything you would want in a PSU, they're truly modular, stable, quiet, look great, powerful and they offer a nice assortment of cabling.
Each of the X3 power supplies I have tested have done a great job at providing more than enough power and more than enough cabling for any system I've installed them in, no matter what's in your system you can trust your hardware to one of these PSUs.
I'll happily and confidently leave this PSU in my system, in fact I have the Ultra X3 1000Watt in my main system right now as well.
DragonSteelMods gives the Ultra X3 800Watt Power Supply a 4.5 out of 5 score.
Pros:
-Tons of cables
-Cables varying lengths
-Quiet
-Very stable
Cons:
-12v line is a bit high side
I would like to thank Ultra for the chance to review the X3 800Watt Power Supply and for their continued support of DSM.
review# 345