Stock fans do their job, but most enthusiasts out there will toss those stock fans and replace them with higher airflow ones or quieter ones depending on the need. The one problem though is that the majority of fans out there today don't come with any type of fan controller, sure you could get PWM fans or you could control them through a software program but that's not always the best way to do it. Some of us out there like to have full control over our fans, allowing us to turn them to full speed when we feel the need to or even slow them down to quiet our systems.
Scythe is a very well known manufacturer of cooling products and lately they've ventured more into accessories as well, we've reviewed some of their fans before. Today I've got the new Kaze Master 3.5 Multi-Channel Bay Fan Controller for review, but it does more than control fans it includes temperature probes to help you monitor temperatures of things in your case. The Kaze Master features a VFD display that shows the fan speeds and temperatures of two fans and two probes, it has two knobs as well to adjust the fans speed and even a shut-off function as well. The Kaze Master is very well made as is can be expected of a product from Scythe, and can be a valuable and informative addition to anyones system.
Scythe "KAZE MASTER" 3.5" Multi Channel Bay Fan Controller Review
Tech Specs,Features or the Basic Info:
Scythe "KAZE MASTER" 3.5" Multi Channel Bay Fan Controller
Stylish 3.5inch Multi Channel Fan Controller to control up to 2 fans and display up to 2 temperature figures.
Passive safety alarm feature is build-in to safely monitor and protect your systems!
You have also fan stop function by turning the knob to counter-clockwise all the way to stop the fan. Not to forget the stylish wide view angle and high contrast VFD display to provide clear viewing.
Price:$34.80
Features:
2 Fans Controller, 2 Temperature Display.
Passive Safety Alarm Feature is Build-In!
Clear and Stylish VFD Display!
Specs:
Model Name: Kaze Master 3.5 (3.5inch Version)
Model Number: KM01-BK-3.5 (Black)
Manufacturer:Scythe Co., Ltd. Japan
Dimension (W x H x D): 103 x 25 x 93 mm
Display Dimension: 60 x 15.5 mm – 3.5inch Version
DC Input: 5V or 12V (From PC Power Supply)
Fan Adjustment Range: 3.7V (10%) ~ 12V (10%)
Fan Channel: 2 (3.5inch Version)
Maximum Fan Ampere per Channel 1A per channel
Fan Speed Range: 0 ~ 7500 rpm (Display Range: 30rpm Incremental)
* Package indicates the maximum range as 9,990 rpm, but the actual range is 7,500 rpm.
Temperature Module Channel: 2 (3.5inch Version)
Temperature Range: 0 ~ 100C / 32 ~ 199.9F
Measurement Frequency: Every 2 Seconds
Weight: 125 g (3.5inch Version)
NOTICE: Please be aware that the KM01s panels have a thin layer of plastic that can be peeled off at your convenience.
A Better Look at Things
:
The packaging for the Kaze Master is a bit off the norm of Scythe's usual flamboyant packaging, but it's still very nicely done. We normally see anime style characters and other types of graphics adorning their product packaging, but this is a bit more 'professional' and stylishly done.
The front of the box has a picture of the Kaze Master with the features highlighted, the back o f the box is very informative with a nice diagram of the working side of the controller so you know exactly what to expect.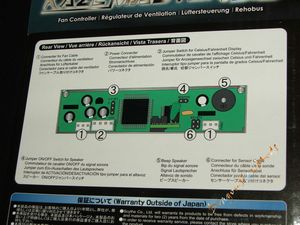 The Kaze Master 3.5 Multi Channel Bay Fan Controller is very well packaged, inside we find another 'box' made of styrofoam to protect the contents. The first thing we are greeted with in the instruction sheet, and under that are the parts, included the Kaze Master inside of an anti-static bag for further protection.
Getting everything laid out we find the Kaze Master itself, instruction sheet, three temperature probes, two fan controller cables, molex power adapter, screws, and pieces of tape to attach the temperature probes. Note that Scythe includes an extra temperature probe as you can only use two of them with this device.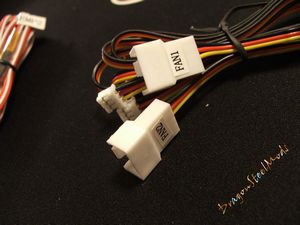 The temperature probes are the familiar style, long wires with a thin probe sealed inside of a plastic casing. There small enough to fit most anywhere, just don't stick them between your CPU and heatsink as that would be bad….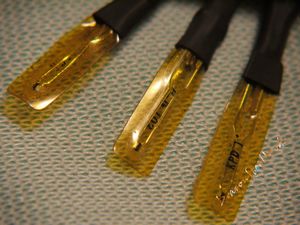 The Kaze Master looks rather plain when not powered on, there are two metal knobs on either side of the VFD and the Scythe name at the top.
The metal frame that holds the PCB controller board features two metal tabs that can be used to help hold your wires in place, simply slide the wires under them and gently bend them down a bit.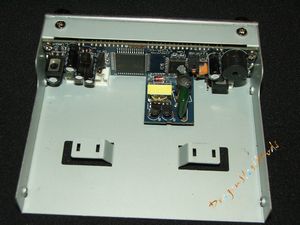 Looking at it from the back side we can get a better look at the PCB controller board. From this view the left side is where you'll find the main power connection and one fan connector, while the right side has the other fan connection and two sets of pins to attach the temperature probes to. On the right side you'll also see the buzzer to let you know when the fans are not running, there's also a jumper a little to the left that you can remove to essentially turn the buzzer off if desired.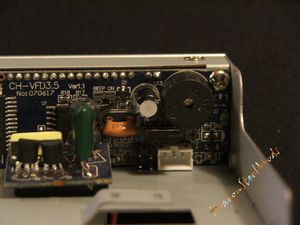 The bottom of the controller is plain metal, but here again you can see the metal tabs that can be used to hold the wires in place.
Installation, Testing and Comparison
Installation is very easy, but just make sure to hook all the wires to the controller before installing it in an available 3.5 bay… I made that mistake… I kinda looked at it and said well, duh?! We all make those stupid little mistakes from time to time…
Once it's installed it's pretty hard to get a picture of the it in the bay inside the case so there isn't one, but here's one of the Kaze Master from the outside, specifically the VFD in action:
You can see the VFD is two colors, a dark blue for the temperatures and a light blue/green for the fan speeds. I like the two colors as it makes it easier to differentiate between them at a quick glance.
In that picture I have it hooked to my CPU fan and a side case fan, with one temperature probe stuck to the top of my Noctua CPU cooler and the other attached to the side of a hard drive.
There's not much more to say about this product, it's easy to install, works great and it's a useful little gadget.
Scythe also makes a 5.25 version of this fan controller as well, Tom has that one for review, so we can look forward to his observations of the larger model coming soon.
Summary:
The Scythe Kaze Master is one of those products that is truly useful, it not only helps to control the speeds of your fan but give you temperatures at a glance.
The Kaze Master is very well made like all Scythe products are and it should last quite a while. Installation is easy and doesn't take much time at all.
DragonSteelMods gives the Scythe "KAZE MASTER" 3.5" Multi Channel Bay Fan Controller a 5 out of 5 score and our Recommended Award as well.
Pros:
-Very well made
-Easy to install
-Easy to use
-Bright, easy to read display
-Ability to turn fans completely off
-Includes extra temperature probe
Cons:
-None really
I would like to thank Scythe for the chance to review the "KAZE MASTER" 3.5" Multi Channel Bay Fan Controller and for their continued support of DSM.
Discuss, Questions, HERE
review# 392