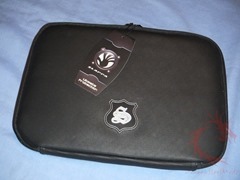 I'm I guess you could say obsessive about cases, I must have cases on all of my gadgets and devices that I can have them for. I look at it as I spent the money, my money, so why not protect the investment right? Cases come in all shapes, sizes and colors and styles and today for review I have a unique one from Slappa called the Rubber Sole which can be used with ten inch tablets and even netbooks. The Rubber Sole isn't for everybody, but it should offer decent protection. Read on to learn more and see exactly what I mean…
Tech Specs,Features or the Basic Info
SLAPPA Rubber Sole-Padded Sleeve
The Rubber Sole computer sleeves use a dimple textured rubberized PVC that feels good to touch and protects your iPad, netbook or laptop from water, while our super-cush padding helps protect your computer from bumps and bangs. The 270 degree zippers allow the sleeve to open around 3 of the 4 sides, making access easy and showcases our SLAPPA crest print on a soft nylon twill lining. 2 molded alloy zipper pullers, injected rubber patch and a storage pocket on the rear outer panel (for cords/papers) round out this highly protective, good looking sleeve.
Product Specifications:
– 10" Sleeve Dimensions: 10.8"(w)x7.9"(h)x1.2"(d)
– Laptop Compartment Dimensions: 10.7"(w) x 7.7"(h)
– Back Pocket Dimensions: 10.2"(w) x 7.3"(h)
– Weight (empty): 1 lb
Price: $17.49 from Slappa at time of review
Price: $24.99 from Amazon at time of review
Video Review
Photo Gallery
review# 794
Disclosure: This product was given to DragonSteelMods for review by the company for review purposes only, and is not considered by us as payment for the review; we do not, never have, and never will, accept payment from companies to review their products.
To learn more about our review policy, testing methods and ratings please see this page.