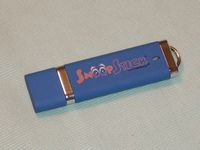 A little bit ago there was a lot of gossip, and exaggeration on quite a few websites about the product I have for review today. It is the SnoopStick from Solid Oak Software, and many people out there were saying it was for spying on people and stealing their information, well that is a bit far-fetched, and quite a bit distant from the actual truth of this product. In the following review you will learn in detail exactly what the SnoopStick is, does and what it is really for, so continue on if you want to know the truth about the SnoopStick, it really is a cool product even if it can't steal peoples identities…
SnoopStick
Reviewed by: Kristofer Brozio AkA Dracos
Sponsor: SnoopStick / Solid Oak Software
Tech Specs,Features or the Basic Info:
SnoopStick
-The Ultimate tool for Monitoring Internet Activity-
SnoopStick is a USB flash drive type device that allows you to monitor what your kids, employees, or anyone using your computer is doing while on the Internet. And, you can monitor them live, in real time, from anywhere in the world.
Simply plug the SnoopStick into the computer you want to monitor. Then run the setup program to install the SnoopStick monitoring components on the computer. The whole process takes less than 60 seconds.
The SnoopStick monitoring components are completely hidden, and there are no telltale signs that the computer is being monitored.
You can then unplug the SnoopStick and take it with you anywhere you go. No bigger than your thumb and less than 1/4" thick, you can carry it in your pocket, purse, or on your keychain.
Any time you want to see what web sites your kids or employees are visiting, who they are chatting with, and what they are chatting about, simply plug in your SnoopStick to any Windows based computer with an Internet connection and a USB port. SnoopStick will automatically connect to the target computer.
Monitor both sides of IM conversations in real time or tell SnoopStick to display recent activity. Check the sender and recipient of every email sent or received. You can even log the user off, disable internet access, set time restrictions or even turn the computer off. All using your SnoopStick from any computer.
EASY TO USE! There are no commands to remember, no passwords to remember, just plug it in
Features:
-New – View and save an instant screen snapshot of the computer being monitored, any time.
-Monitor all web site access.
-Works with all browsers and web enabled programs.
-Monitor both sides of all "instant messenger" communications.
-Works with all popular IM programs.
-Monitor all email access (SMTP, POP3, IMAP) to see who and when emails were received from and
sent to.
-Monitor activities in real time, or retrieve activity logs from recent activity. SnoopStick records
everything, whether you are monitoring in real time or not.
-Store up to 12 months of activity logs directly on your SnoopStick.
-All program modules are updated completely automatically so you always have the latest version.
-Send the user a pop up message alert. A good way to tell them they're busted!
-Turn off/on Internet access with the SnoopStick locally or remotely.
-Set allowable times for Internet access.
-Prevent users from using certain types of Internet programs.
-Block access to specified ports.
-Block access to web sites.
-One click "Block Social Networking" option instantly blocks access to sites like MySpace.com.
-Completely secure. Only your SnoopStick can access your computer or change the settings you have
chosen.
-Works with Windows 2000, XP, 2003, and is Vista ready.
-New – Now also available on standard, name brand, high capacity USB flash drives
SnoopStick is NOT just a simple screen capturing or email alert product like everything else out there. It is the ONLY product that lets you see what is going on NOW, live and in real time and even take a picture of it!
SnoopStick is only $59.95 and can be used to monitor up to 3 computers.
-No hassle 30 day money back guarantee
Check out the SnoopStick FAQ HERE to learn a lot more about it.
You can purchase directly from Solid Oak.
A Better Look at Things
:
So there isn't much in the way of pictures of the actual product, most pics in this review will be screenshots basically, but here are the product shots….
The packaging is in the form of an easy open plastic clamshell, it's not sealed, it just pops right open… You can plainly see the SnoopStick front and center of the package.
The back of the package has a bit of information about the SnoopStick, with a few specs listed as well.
The cardboard insert is actually a small booklet, two pages, with basic installation instructions there.
The SnoopStick itself resembles your basic USB thumbdrive, it is thin in size, has an activity LED on the end along with a loop hole to attach the SnoopStick to your keychain if you wish.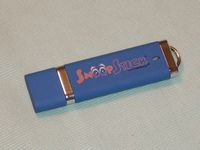 Obviously it is blue in color with chrome accents, and the SnoopStick logo on it, it also has a textured plastic surface, and of course the cap that comes off to reveal the USB connection.
Installation, Testing and Comparison
–
–
–
–
–
–
–
–
For the Installation and Testing section I will be going through a detailed review of everything, so I have lots of screenshots for you about everything that is going on.
Pop the SnoopStick in and it will automatically run or Windows will ask what you want to do, depending on the settings of your system.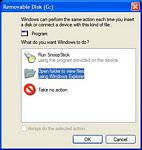 If we go to 'My Computer' we'll find the SnoopStick there as a new disk drive, with its own little icon, a flashlight.
Doubling clicking the icon, you'll find three things there, 'autorun', and Internet Explorer shortcut to the Quick Start Instruction, and the SnoopStick setup program. If you have your computer set to view hidden files and folders (as I do obviously), you'll see another folder there as well that contains the applications for the SnoopStick.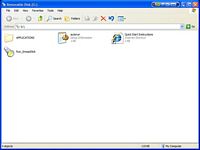 Starting the SnoopStick software will take you to the SnoopStick Control Panel, where you'll have quite a few options. You'll notice one of them is darkened out, it is only available if the actual 'Snooping' software is installed on the computer you inserted the SnoopStick into.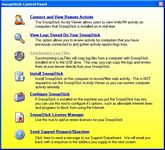 Of course, once you click the Install option you are greeted with a EULA agreement that you basically have to agree to if you want to use the software.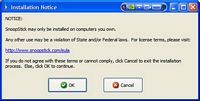 Once you accept the agreement, SnoopStick will automatically download, and install or update the actual SnoopStick software.
Installation, Testing and Comparison Continued:
–
–
–
–
–
–
–
Before we go on, I wanted to mention that the instructions on the SnoopStick site are actually very well done and very easy for anyone to follow. They can be reached by clicking the Inter Explorer shortcut I showed you earlier.
Ok, after the software is installed you'll need to validate your account, a window pops up and you have to click 'OK' to do this. Once validated another license agreement pops up, and you are notified about you account information and expiration as well.
You can install the basic product on up to three computers, you can however go and purchase more licenses for other machine if need be, by clicking the 'SnoopStick License Manager' option on the main menu.
After everything is installed and validated, you can start using the SnoopStick to monitor and record activity on the machine you installed the software. The main menu changes a bit after the installation.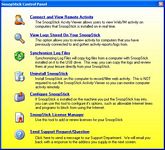 Install becomes Uninstall and the Synchronize Log Files option is now available to you.
The last option, 'Send Support Request/Question' is very useful and easy to use. It's nice not to have to hunt around for the contact info, or have to go to the products site to receive technical support. With SnoopStick if you have a question or problem just hit the button, fill in the info and away you go. I did use it of course, I had a couple questions about one of the features, and a small problem I ran into, so I filled out the form with my questions and send it on it's way. I was very surprised and pleased that I got a response within 30 minutes, and they did not know I was reviewing the SnoopStick, so I have to assume their support is very good with such a short response time to an 'anonymous' users questions.
Installation, Testing and Comparison Continued:
One of the first things you'll want to do before really using the SnoopStick is to configure it, that is done by clicking the 'Configure SnoopStick' option on the main menu. The first thing you are greeted with is a status screen telling you what is enabled or not. You'll notice a menu on the left side as well, that we'll explore next.
The next choice or section would be 'Access Restrictions', here you can limit the time your child or employee is allowed to access the internet, you can configure certain time periods, and there are advanced options where the SnoopStick has to be plugged in to allow access, or limiting access to a certain number of minutes.
The feature would be to block access to only certain sites, basically ones that you know offer a 'bad influence' to people… There is also a check box to automatically block social networking sites like MySpace, FaceBook and others.
The last menu is the advanced options configurations, here you can select things to not be included in the logs. Here you can also allow certain IP Address internet access even if SnoopStick has access turned off, like Windows Update, or your Anti-Virus software sites. You can also configure ports manually that will be allowed access.
Installation, Testing and Comparison Continued:
–
–
–
There's quite a bit more to the last options menu, so we're continuing that here…
Under the Advanced Options sections we have six sub-menus, that allow for more customization of the SnoopStick. The first one would be 'Program Control' this is for you to add programs that you want to always allow access to the internet, here again you would want things like your anti-virus, Windows Update and any other security programs to still have access to the internet even though the user cannot. Under that is another option to add program to kill if they access the internet, you can list certain programs that you disallow access to the internet forever.
The next two options would be to configure TCP and UDP ports access, and with both you have the ability to customize them as well.
The next option is Protocol Logging, you can enable or disable them here.
If you have a bunch of computer you are monitoring and wish to change settings of the SnoopStick you can change them all at once with 'Push to Multiple PCs' option. This options allows you to transfer all the settings to all of the systems you are monitoring so they are all the same.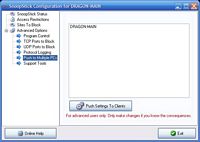 The last option would be 'Support Tools', here you can get support from SnoopStick as well, just like from the other option. There is also an option to Force Client Update, with this you can force an update on the computer you are configuring.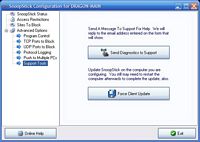 Well that's about it for that, let move to the next section to see what SnoopStick can really do, and what it can't do.
Installation, Testing and Comparison Continued:
–
–
–
–
–
–
–
–
I've got quite a bit more to go over, so let's just continue on shall we? Next up would be the view logs option. You can select the name of the computer and the date to view the logs from.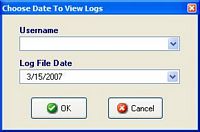 Once open you have access to quite a bit on information about the computer you are monitoring. Across the top you'll see some icons, the first one is 'Transfer Logs', with this option you can transfer logs remotely from the monitored computer to you SnoopStick. The next option is 'Send Message', kind of obvious, you can send a message to the machine you are monitoring, if you catch them doing something they are not supposed to do you can instantly let them know. The next option would be 'Send Commands', another obvious one, you can send commands to the machine you are monitoring, like disable internet access instantly. The 'Send Commands' option is pretty cool as well, you can shutdown a machine remotely, log users off, restart the machine, disable/enable internet and configure times for internet access. Next up is the icon 'Remotely Configure', this is another self-explanatory one as well, this will allow you to configure the remote SnoopStick software. The icon is 'Take Screen Snapshot', this one is actually cool, it will take a full desktop screen shot of the remote computer to show you exactly what they are doing and accessing at that moment.
The first tab is to view Web Access activity, here you can see every URL that the computer visited, and I mean every URL they go to and every URL that the websites they visit pull as well. If you look about half way down the page you'll see I visited HardOCP, and under that is all the URLS from their advertising and marketing being pulled in or loaded into the browser. So you can see that you really visit a lot of pages when you think you are visiting only one…
This one here also shows that I visited Digg, and of course under that you can see their advertising or adserver being pulled in as well. You'll notice the bright red block of URLs highlighted, it is the one I blocked that I showed you earlier. It is highlighted basically so you can see if the user tries to access one of your blocked sites, very useful to bust your child or employee trying to do something they are not supposed to do. You'll also notice the date and time are recorded, along with the user name, and the program that was used to access the URLs.
Next tab would be the 'IM Conversations' tab, here SnoopStick monitors and records everything said between both parties… If you read my conversation closely you'll see I was talking to a rather computer illiterate person… Oh, well, it never fails that when you want to chat with someone, no one is online, but when you don't want to chat everyone is online bothering you…. but you get the idea of how the logging works, it records everything said in the IM's.
The next tab would be 'Email Activity', this only tells you what is going on and who the email is from, or sent to, it does not tell you what the email says though. There are two windows in the pictures below, the first is from the Log Files the second is from the Real Time monitoring system.
The last tab is other messages, or basically just system information. Here you'll find what programs the user accessed, started and stopped.
And last but not least, the SnoopStick allows you to take a real-time screen shot or capture of the entire desktop of the system or systems you are monitoring. You can see everything they are doing with there desktop at that precise moment. At the very top you'll notice some options that you can apply to the screenshot. You can Copy to Clipboard, Send via Email or Send to Desktop.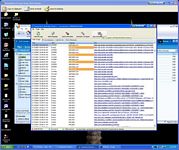 Well, that's that for the SnoopStick review… Overall it can be a great tool for parents and employers a like. Of course it can also be used in other nefarious ways as well, but I won't go into that, you can use your imagination. When I first read about the SnoopStick, quite a few people where spouting on about how it can spy on people and steal all their data, etc, etc… This just goes to show you that not everything you read is true, and maybe some people should do a bit of research before jumping to conclusions and making false assumptions… You know what they say about assuming thing right?!?
Summary:
Being a parent I can truly appreciate this product, I know what is out there on the internet, and most of it I really don't want my children exposed to if I can help it. The SnoopStick can help 'defend' your children from the many things (read people) out there that are out to harm them. In this day and age when it seems things are beyond our control, it's nice to get a little of that control back and know that when my child gets on the internet he will not be exposed to the things and people that could possibly do him harm. Yes there is no 100% effective solution to protect your children from these things, but it's nice to know that I have the tools to at least limit the chances of my child being exposed to certain things. There are many people out there that believe the government and everyone else needs to protect our children, but in reality it is up to the parents to do that, and let's face it it's hard being a parent, and trying to protect our children at all times, it's nice to know that there are products out there like the SnoopStick from Solid Oak Software that can help me monitor things even if I cannot be there 100% of the time watching over my child's shoulder… Of course though the SnoopStick can be used by companies to do the same things with or to their employees as well, so it is not just for home use, it can be a very valuable tool to help companies reclaim lost time by limiting web surfing during business hours and keep a close watch on exactly what their employees do on company time…
DragonSteelMods gives the SnoopStick a 5 out of 5 score and our Recommended Award as well.
Pros:
-Excellent tool for monitoring users internet activities
-Very useful
-Use on multiple computers/includes multiple licenses
-Uses very little resources
-Undetectable
-Great for companies or personal use
-Low price for what it can do
Cons:
-Doesn't actually Snoop on people! 😉
I would like to thank Solid Oak Software for the chance to review the SnoopStick and for their support of DSM.