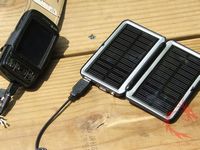 Going Green is the theme as of late everywhere you look, and it's all based on Global Warming theory, but apparently there's lots of money to be made off of peoples fears, and many companies out there are more than happy to take advantage of it. Personally I think Global Warming is a whole bunch of BS, and from what I've seen there really is no concrete proof of it at all, there's just a whole lot of speculation about things going on in the world today. It seems everything is blamed on global warming, if it's unseasonably hot it's because of global warming, if it's unseasonably cold it's because of global warming, c'mon now, you can't have it both ways, pick one or the other please. How can we know that it's getting warmer, or getting colder when we haven't kept any real records of temperatures for any period long enough to make an actual intelligent observation or form any kind of theory about global warming? The answer is we can't, it's all speculation that a whole lot of people have taken as fact, a theory is just that, a theory, it's not based in fact, it's just simply an idea about something that's happening. Anyway, enough of my opinions, I'm sure you could care less what I think about global warming…
Today for review I've got a great product from our friends at USBGeek , it's a Solar Charger with Dual USB ports, it features selective voltage output, dual USB ports, long battery life, it includes an AC adapter and a car power adapter, and has several types of tips for various phones and electronic gadgets . In my time with this little gadget I've found it to be very well made, useful and just an all-around great little device that anyone would be happy with.
So continue on to learn more about it…
Solar Charger with Dual USB Ports
Author: Kristofer Brozio
Tech Specs,Features or the Basic Info:
Solar Charger with Dual USB Ports
# Features & Specification: Solar charger with dual USB port for power back up whatever you go.
# Using the sunlight to charge your devices, e.g. Cellphone, PDA, MP3/MP4 players.
# Built-in Lithium battery can be recharged by Sunlight, AC power, Car power, and stored.
# Fully charging time by Sunlight: 4 to 8 hours (Depending on the intensity of sunlight)
# Built-in ultra bright white LED torch.
# Suitable for a wide range of mobile phones, e.g. SonyEricsson, Nokia, Samsung, Motorola … etc.
# Output interface: 2 x USB port
# Multi-voltage output: 4.5V, 5.4V, 6.4V, 9V
# Rated solar power: 3W
# Lithium battery: 2000mAH, 1A
# Dimension: 12.5cm x 8cm x 2.4cm
# Weight: 206g
Package Contents:
# Solar Charger with Dual USB Ports
# USB Cable
# 5 Mobile Charging Converter
# AC Adapter (90V~240V)
# Car Power Adapter
# User Manual
Price: US$ 47.00
A Better Look at Things
:
The Solar Charger comes packaged in a very nice presentation style box, the box is heavy and includes a bit of information on the top, bottom and sides.
Inside we find everything wrapped in individual plastic bags, and in their own compartments. Included with the charger is the instruction manual, USB cable with various tips, AC adapter, plug adapter for US plugs, and a car power adapter as well, so you get quite a bit of stuff in the box.
The actual solar charger itself is very small and portable measuring at approximately 5 inches long by 3.5 inches wide by 1 inch tall, or about 12.5cm X 8cm X 2.5cm.
On the left side of the charger we find a white LED flashlight, on/off switch for it, LED indicator, input jack, and a voltage selector switch.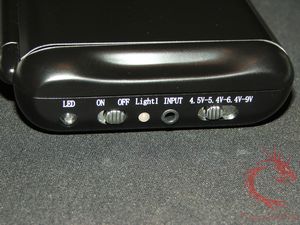 On the right side we find two USB ports, an output jack, indicator light and the main power switch.
The bottom is just plain black, nothing special here.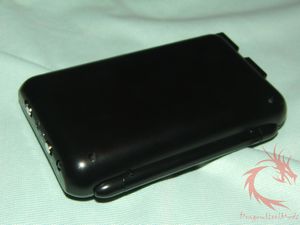 On the front is a slide lock to open the actual solar panels, sliding it to the right unlocks it, when you open the panels the charger starts charging automatically. When the solar panels are open it essentially doubles the width of the unit.
The unit comes with a car charger so you can charge the charger on the go if need be, it also comes with a US power plug adapter because it is natively for European style plugs, so you can even travel with the Solar Charge if you wish to.
There are various tips included with the charging cable including the standard mini-USB tips that is common with many mobile phones, there are also tips compatible with Sony, Samsung, Nokia, Motorola and any other device that they'll fit into.
Installation, Testing and Comparison
Since this is the first Solar product I've reviewed there really is no comparison part of this review, and well there really is not installation either as there's nothing to install, except maybe putting the correct tip on the cable for your device, but that's kinda self-explanatory.
The instructions recommend charging the unit for 8 hours using the AC adapter before initial use, any subsequent charges can be made via sun, AC adapter or car charger afterwards.
After the initial charge it only take 4-5 hours to charge fully via the AC adapter or car charger and anywhere from 4-8 hours using the sun, it all depends on how bright it is outside when charging.
You can charge your phone and use it though while re-charging the unit by sunlight, so you can hook up your phone and open the solar panels and you're ready to go.
From my experience the charge holds a charge very well, I initially charged the battery and two weeks later it still had a charge on it even after using it for my phone a few times, once you charge it you can just open up the solar panels while your using it to keep charging the battery, so essentially you have an unlimited supply of power via the sun for your mobile devices.
I charged my phone and mp3 player with the charged several times and it worked great, overall I think this is a great little gadget that can truly come in handy.
When you open the solar panels the charger starts charging automatically and a red LED will light up which will turn green when the unit is fully charged.
To actually charge something or use the power from the unit you'll have to turn it on via the switch on the opposite side, there's a red LED that comes on to let you know it's powered on and ready to go. Before charging a device though you'll need to make sure you have the voltage selector set to the voltage you need for your device. You can usually find the voltage for your device in the specs for it or even on the AC adapter for your phone, usually though if your device charges via USB you can just set it at the 5v setting and you'll be fine.
The LED flashlight is actually very bright, I was surprised at the intensity of it, it can be very useful, and I think it's nice added extra to the unit.
Here's a few pictures of the charger in action, of course I took them outside in the sunlight as that seemed an appropriate setting for a solar charger:
Charging devices via the solar charger seems to work fine and quickly, I let my phone get to approximately half charge according to the battery indicator and then charged it via my phones AC adapter, a few days later when the I did the same thing but charged with the solar charger and it took almost the same amount of time to charge my phone fully as it did with the AC adapter. Of course it took a little bit longer, but the way I did it was not an exact testing method either so the battery could have been drained more or less either time I was charging it.
Since it's a solar powered charger I really wouldn't expect quick charging either, it's not sold as a 'quick charger' or advertised as such, but I can say it works and works well.
Having the option to charge three ways is also nice, say if you're going on a camping trip or something you can just charge it from your car on the way there, then just use the sun the rest of the time and not worry about running our of power for you device.
Overall it seems well made, but as with any gadget you'll need to take care of it, the weakest point is the hinge, so when it's open care needs to be taken not to drop it or step on it etc. It's also not waterproof, but then again I don't think you'll be using a solar charger in the rain either…
This is one of those products that I really can't find anything wrong with, in my brief time with it it has performed well and exceeded my expectations, of course who knows what will happen 6 months or even a year down the line though…
Honestly I wasn't expecting much from this little gadget, I was thinking it was more of a gimmicky thing that was just trying to cash in on the whole green trend, but truthfully it's a rather cool and useful gadget.
I've read reviews of other Solar Chargers out there today, but I haven't seen one of this particular model yet and this one seems to do much more than the others and includes much more as well, it also appears to be of better quality as well.
Summary:
If you want to go green or at least start to then this is a great start at it, we've all got many gadgets that need power and what better way to power them than with the sun.
The Solar Charger from USBGeek is great little device that is truly something that I think can be very useful for most anyone, but especially for the outdoor types.
I've got a friend who is a 'greenie' and he was more excited about this gadget than me, he spends a lot of time in the woods at his cabin where he has no power and something like this is just what he wants and or needs.
DragonSteelMods gives the Solar Charger with Dual USB Ports a 5 out of 5 score and our Recommended Award as well.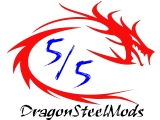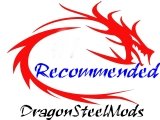 Pros:
-Well made
-Long lasting battery
-Included flashlight
-Included adapters
-Optional power sources for home and car charging
-Works well
-Very useful
-Multiple uses
-Inexpensive for what it is and can do
-Small and portable
-Worldwide use
Cons:
-None really
I would like to thank USBGeek for the chance to review the Solar Charger with Dual USB Ports and for their continued support of DSM.
review# 456