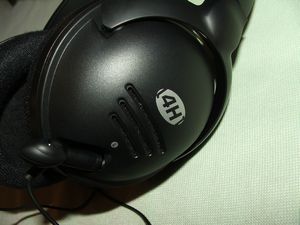 A couple weeks ago I took a look at the SteelSeries 3H Gaming headphones, well they've just sent me the 4H version for review which is essentially a more improved version of the 3H. In my review of the 3H headphones I found them to be a bit lacking in some areas but still overall a great set of headphones, the 4H version I have for review today picks up where the 3H headset left off. I found them to be an excellent all around set of headphones no matter what you are doing, be it FPS or RTS games, or even for listening to music and watching movies, the 4H headphones are a great all around pair for whatever you need them for.
SteelSeries 4H Gaming Headphones
Tech Specs,Features or the Basic Info:
SteelSeries 4H Gaming Headphones
SteelSeries 4H highlights:
– Lightweight gaming headset with XL-sized ear cushions
– Developed in cooperation with professional gamers
– Retractable uni-directional microphone system
– Volume control, featuring 3 microphone settings
– Full-size earcups for maximum individual comfort
– Strong and deep resonating in-game sound projection
– 40mm SteelSound SunDancer(Sd) Units
Created as a simplified version of the SteelSound 5H v2, SteelSound 4H features many of the same features such as XL-sized ear cushions, a retractable microphone, volume control, and sound specifically geared towards enhancing in-game performance. However, unlike the SteelSeries 5H v2, this headset can not be dismantled into separate pieces.
All headsets from SteelSeries are optimized for specific sounds found in gaming, like the sound of gunfire, weapon reloads, footsteps and other crucial in-game sounds. That's why professional gamers all over the world use them. We're sure you will enjoy it too, whether you're an aspiring competitive gamer or just want to fully immersive yourself in your gaming experience.
We recommend SteelSeries 4H for both FPS and RTS-gamers.
Specifications for SteelSeries 4H:
Headphones
– Frequency response: 16 – 28.000 Hz
– Impedance: 40 Ohm
– SPL@ 1kHz, 1 Vrms: 110 dB
– Cable length: 1.8 meters (6 feet)
Microphone
– Frequency response: 75 – 16.000 Hz
– Pick up pattern: Uni-directional
– Sensitivity: -38dB
– Impedance: 2k Ohm
Price: USD: 69.95 + shipping
A Better Look at Things
:
The SteelSeries 4H Gaming Headphones come packaged in a semi-easy to open package, the plastic cover is sealed to the cardboard backing, opening it effectively destroys the package. Through the front of the package you can easily see the headphones themselves, while the back lists all the specs, features and awards.
Opening up the package we find the headphones themselves, a couple advertisement inserts for other SteelSeries products and a brief instruction sheet.
One of the great features of the 4H headphones is the In-line volume and microphone controls, I found this to be very useful. The volume is controlled by a little knob on the side while the microphone gain is controlled by a sliding switch with three choices, high, low and off. The 4H Gaming Headphones have the standard color coded audio connectors that will fit every motherboard audio port.
The headphones themselves are very comfortable to wear but I felt they were a bit large at first putting them on.
The head band is adjustable to fit anyones head size, and the top is padded for extra comfort.
On the left ear piece is where you'll find the retractable microphone, something I like very much, you just pull it out to use it when needed and slide it back in out of the way when not in use.
The majority of the headphones are made of plastic making them very lightweight and comfortable for periods of long use. The cushions of the ear pieces are very thickly padded, they actually enclose your entire ear when wearing them which makes them much more comfortable for long use and this helps to keep outside noise out as well.
Installation, Testing and Comparison
Here's a side-by-side shot of the SteelSeries 3H and 4H headphones. The 4H are much larger, and cannot be folded like the 3H can for transport. What really makes them appear much larger though is the large amount of padding on the 4H, the really aren't that much bigger though…
Well I got my game on and good to test these headphones, I played Bioshock, Halo2 and BF2142 along with Act of War to get some RTS action testing in there as well. I found the 4H to be excellent and truly immersive headphones, especially playing Bioshock and BF2142 it's like you're enveloped in the gaming world. I could hear everything very clearly and cleanly, the bass response/sound of the 4h is much better than that of the 3H, especially for explosions and just firing a weapon, it's like you're actually there. Even the little things like footsteps, talking and reloading your weapon seem much more realistic and clearer.
Of course I loaded up Winamp and listened to quite a bit of music as well, and I threw in my Star Wars 3 DVD as well. Honestly for music they still aren't the greatest at reproducing the full spectrum of sounds clearly but they are very good, watching movies though, the experience is just as immersive as playing a game, the sounds are reproduced very well and you can almost feel the explosions.
I found the cord to be nice and long, and from what I understand the microphone is very good, I was told I was heard fine through it.
I did notice a very slight hiss when everything was quiet, but that could have been line noise from the motherboard and not he headphones themselves.
Other than that little bit of noise during periods of silence I found the SteelSeries 4H Gaming Headphones to be an excellent choice for all around use, especially for FPS type games. I sat down and started playing Bioshock and next thing I know four hours had past, I was like 'Whoa, What happened?'
I do have one small complaint though about these headphones, it might just be the pair I got for review though, the glue holding the covering for the ear pad let loose on one side. It doesn't effect the sound but it's not very aesthetically pleasing, it looks pretty bad… I didn't do anything rough with them either, just normal use, when not in use they hang by the headband.
Summary:
Overall the SteelSeries 4H Gaming Headphones are an excellent choice for gamers out there, no matter what types of games you play I think you'll love these headphones.
They reproduce sounds very well, they truly do make gaming an immersive and much more enjoyable experience.
DragonSteelMods gives the SteelSeries 4H Gaming Headphones a 4.5 out of 5 score.
Pros:
-Comfortable
-Sound excellent in every application tested
-Very good microphone
-Lightweight
-In-line volume control with 3 microphone settings
Cons:
-A bit fragile
I would like to thank SteelSeries for the chance to review the SteelSeries 4H Gaming Headphones and for their continued support of DSM.
review# 282