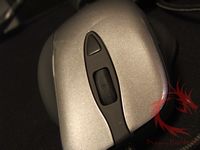 A mouse is just a mouse right? You use one to essentially control your computer and most people think that any old mouse will do, and I can say those people are mistaken. Considering that the mouse is probably used just as much as your keyboard you really should put thought into the type and style of mouse you decide to purchase. When someone buys a keyboard, most times people look for certain style and features that will make them happy and comfortable while using the keyboard but people don't look at a mouse the same way and you have to wonder why that is seeing it's really just as important as the keyboard, really an extension of it if you think about it.
When picking a mouse the first thing you need to figure in is what you're using that mouse for? Be it gaming, general everyday use or just browsing the web and doing some work, having the right mouse can make a world of difference in your overall enjoyment and experience.
A little while ago I took a look at the SteelSeries Ikari Laser Gaming Mouse and I found it to be an excellent choice overall, today I've got the optical version of Ikari and I think I actually like it better than the laser Ikari… It offers choices of DPI or CPI settings, but that's about it, it's not as feature packed as the Ikari laser, there's no special LCD screen and you can't change the settings on the fly, but that's ok with me as I never really used any of those features anyway. If you're looking for a great mouse for gaming and everyday use that just is that, a great mouse, then read on to check out the Ikari Optical Gaming Mouse…
SteelSeries Ikari Optical Gaming Mouse
Tech Specs,Features or the Basic Info:
SteelSeries Ikari Optical Gaming Mouse
SteelSeries Ikari Optical highlights:
– Specific design for FPS gamers
– Proven LED technology
– Driverless, plug-and-play feature for LAN gamers
– Ability to toggle between two CPI settings
The SteelSeries Ikari mice are the result of 15 months extensive research of ergonomics, technology, shape, motion, hand grip and play styles by gamers. The shape, materials and specifications of the SteelSeries Ikari mice are based on input from professional players from Team 3D, compLexity, mousesports, SK Gaming, Team NoA and other world-class gaming organizations, who collectively represent the world's most accomplished gamers in Counter-Strike and other gaming disciplines.
The SteelSeries Ikari Optical was designed as a no-bullshit, top performer for FPS gamers. The research and development emphasized a "no nonsense, no crap" approach with proven optical technology that allows gamers consistent, fast movements without technical difficulties of any kind.
Specifications for SteelSeries Ikari Optical:
– Frames per second: 6.500
– Inches per second: 40
– Counts Per Inch (CPI): 400 – 1600
– Acceleration: 15 G
– Buttons: 5
– Cord: 2 m / 6,5 ft (braided to improve durability)
– Polling: 1000 Hz
– Lift distance: 3,5 mm
– CPI high/low indicator
– Gold-plated USB connector
– Large pressure points that reduce friction for optimized glide
– Driverless, plug-and-play feature for LAN gamers
– Measurements: 130 x 83 x 36 mm / 5,1 x 3,3 x 1,4 in
– Operating systems: Win XP/Vista/Win 2000/Win 98/Win ME/Mac OS
FAQS:
Q: What is the difference between Ikari Laser and Ikari Optical?
A: The SteelSeries Ikari Optical is a mouse that's perfectly suited for FPS players. The optical sensor is well proven and can track even when moving the mouse at an extremely high speed when playing on a very low sensitivity. It's a very simple mouse where the focus was clearly on performance in games like Counter-Strike. The Ikari Laser is made for all of the MMO/RTS players that need high precision at a rather high sensitivity. It's not made for extremely fast movements of the hand (and by that we really mean EXTREMELY FAST). It offers a LCD , on the fly CPI switching and macro functionalities which can be programmed with the software.
Price:
(EUR: 49.99 · DKK: 399.00 + shipping)
A Better Look at Things
:
The box for the Ikari Optical Gaming Mouse looks very similar to the box for the Ikari Laser mouse, you can see the mouse through the front with basic features listed, while on the back you'll find lots more information and a diagram of the mouse itself.
Opening and unpacking everything we find the mouse itself, software CD, SteelSeries sticker, user manual and a small advertising booklet.
The SteelSeries Ikari Optical Gaming Mouse is a light gray in color, the shell has tiny fleck of metal in it giving it a metallic look and the actual surface is smooth. The SteelSeries logo in on the back of the mouse, while there are indentations on each side to use as finger placements to help get a better grip on the mouse. There are two buttons on the right side, back and forward as default, and under those are two small 'windows' that light up to indicate the CPI settings of either High or Low with a very bright white LED. The scroll wheel is rubberized and textured for easy grip and use, it rolls very easily and has a slight audible click, behind the scroll wheel is the CPI change button that is easy to reach.
On the bottom of the Ikari Optical we find the optical sensor, where else would it be right? On each side of the sensor are large mouse feet, these really do help keep the mouse flat and steady, there is also larger than normal feet towards that front and back as well, all these combined make the Ikari Optical very stable and easy to use.
Installation, Testing and Comparison
For the comparison part of this review, it's obvious to compare it to the SteelSeries Ikari Laser so you can get an idea of the differences between them. They look pretty much exactly the same except for a lighter color difference and smooth texture on the mouse, the other glaring difference is there is no LCD display on the bottom of the Optical like the Laser version has.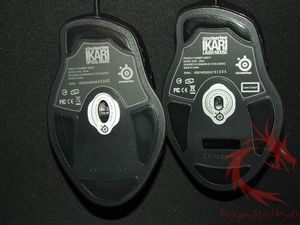 There are only two DPI or CPI setting with the Ikari Optical Mouse, you can just use the standard default or presets and leave it be or you can install the SteelSeries software to manually configure the two settings to your own personal preferences for the choices that are preset into the device. Some might not like the idea of having to install the software to change the settings, especially if you have more then one computer but most likely you'll find the setting that you like and never change it again. I haven't yet since I set it after my testing was through.
When changing the settings the indicator will light up brightly on the side of the mouse to let you know at a glance which setting you are on, I like the fact that the red glow of the optical sensor shows through as well, it just looks rather cool.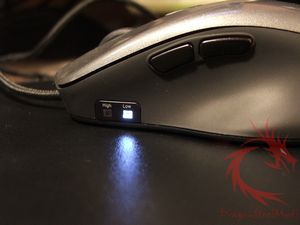 Of course besides the obvious differences between the Laser and Optical there is one that some people might not like, you can't really configure the mouse to your liking you only have a choice of the three included DPI/CPI settings. Personally it doesn't bother me as much, after all I don't get to do much gaming and I usually have my mouse set with only two options a low DPI and a high DPI so the choices available to me are fine and I can work with them.
I used the Ikari Optical Mouse with plastic and cloth mousepads and had no real problems at all, the Ikari tracked flawlessly on both types of surfaces. Currently I'm using the SteelSeries S&S mousepad with it and I've found the two work very well together.
I picked up the infamous Valve Orange Box finally a couple weeks ago so I did get some gaming in, actually finished Portal, and played a bit of Team Fortress 2 and some of Half-Life Ep2 as well, all in all the Ikari Optical works perfectly for gaming I think.
Of course I use a mouse more in my everyday tasks than I do for gaming, I have to pay bills y'know… the Ikari Optical is perfect for everyday use as well. Having the two CPI settings allows me to slide across my three monitors quickly when on the higher CPI, and yet I can quickly switch to Low CPI when I need more control and accuracy, it's nice to have the choices available to me to use and change quickly.
Overall the Ikari Optical is an excellent mouse for casual gaming and general everyday use as well.
Summary:
Before the SteelSeries Laser and Optical mice I was using the Logitech G5 Rev2 as my 'regular' mouse for everything I did, along came the Ikari Laser and I had a new mouse to take the G5s place, but now that I've got the Ikari Optical it will be replacing the laser now as I like it much better.
Yes it's nice to have all those cool things like the LCD display and the DPI adjustments on the fly, but it's really more than I need for the things I do with my mouse, the Ikari Optical suits me just fine the way it is, it's simple yet still has some nice features and performs very well.
Of course though I would like to have a bit more control over the CPI settings, but after using it for a while I found they work fine for me a they are.
If you're in the market for a mouse that performs well, allows some customization and just is a great mouse then the Ikari Optical might be for you, or if you're like me, a casual gamer then you might want to consider this mouse as it has the features that you'll want along with a decent price and of course the SteelSeries quality behind it.
Honestly I really cannot fault this mouse for what it is, in my opinion it could be quite possibly the best mouse out there today, at least it is for me, it will be in use on my desk for some time to come…
DragonSteelMods gives the SteelSeries Ikari Optical Gaming Mouse a 5 out of 5 score and our Editor's Choice Award as well.

Pros:
-Easy installation/no drivers
-Works out of box
-Easy to use
-Very sensitive
-Bright indicator light
-Comfortable
-Works on most any surface
Cons:
-Cannot manually set DPI/CPI
-Need software to change CPI
I would like to thank SteelSeries for the chance to review the Ikari Optical Mouse and for their continued support of DSM.
review# 436