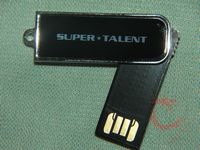 A while ago I took a look at the Super
Talent Pico-C Gold 8Gb USB drive, today I've got another of the
Super Talent Pico series USB drives, the Pico-D. It's a bit bigger
than the Pico-C, but just as durable, portable and water resistant,
and about the same performance. The outside casing is metal for
protection, the USB drive part is plastic of course and swivels out
of the casing to access it.
Super
Talent Pico-D 8GB USB Drive Reviewed
Author: Kristofer
Brozio
Tech
Specs,Features or the Basic Info:
Super
Talent Pico-D 8GB USB Drive
Pico Series USB drives are
incredibly small and stylish flash drives offering up to 8GB data
storage. Pico drives feature up to 30 MB/s transfer speeds.
Measuring merely 1.50″x0.50″, not only are Pico drives
ideal for transporting data, digital images, and presentations, they
are also the perfect accessory to adorn keychains, mobile phones, or
wearing as a necklace.
Pico
Capacities: 1GB – 8GB
Technical Details:
-Weight less than 6g
-Up to 30MB/s (200X) data
transfer rate
-Fully compatible with USB 2.0
and 1.1
-Water resistant
-Powered by USB bus – no
external power is required
-Durable solid-state storage –
10 years data retention
-Hot Plug & Play – enable
you to install and uninstall Pico anytime
-PICO-D: Swivel
A
Better Look at Things:
The Super Talent Pico-D comes in
the standard plastic clamshell style package, this one though is the
easy open type, so you won't need to fight with it.
Included with the Pico-D is a
small keychain to attach the Pico-D to your keys, laptop bag or
anywhere else you might want to.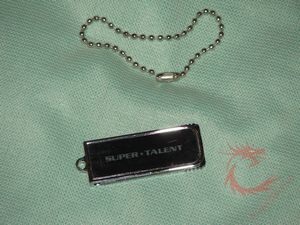 The outside casing of the Pico-D
is metal to protect the plastic USB drive inside, the drive itself
swivels out for access. The Pico-D is durable and water resistant as
well, so it'll withstand the everyday rigors of carrying it around on
your keychain, and your data will be safe and sound.
Installation,
Testing and Comparison:
Here's the Pico-D compared in size
to a couple other drives on hand and a quarter to give you an idea of
size.
So for testing I put the Pico-D up
against some other drives I've got an hand, using SiSoft Sandra 2009
Removable Benchmark Test.
According to the overall results
the Pico-D isn't the fastest out there, but Super Talents own 200X
USB drive and the OCZ drives are the fastest out there today.
Here's a closer look at the 256Mb
files test from the SiSoft Sandra Removable Storage test:
Here we see the Read speeds are
mostly even, with write performance dropping for both the Pico-D and
Pico-C compared to the others.
This are synthetic benchmarks
after all, and in the real world you really can't 'feel' much of a
difference when reading from any of the drives, you can though notice
it does take a bit longer to write the same file to the Pico-D drives
than the OCZ drives, though there's really not much difference.
Summary
and Comments:
If you're looking for a large
capacity, tiny and relatively fast USB drive I suggest you take a
look at the Pico series from Super Talent, they're well worth it, in
price, quality and speeds.
While it might not be the fastest
in terms of benchmarks, the Pico-D is fast really, in terms of how it
feels in the real world when transferring to and from it, and that's
what really counts, we don't like to wait, the Pico-D delivers good
speeds, durability, and even good looks.
DragonSteelMods gives the
SuperTalent Pico-D a 4.5 out of 5 score and our Recommended Award as
well.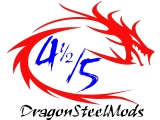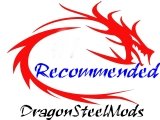 Pros:
-Durable
-Relatively fast
-Inexpensive
-Water resistant
-Tiny and very portable
Cons:
-Not the fastest
I
would like to thank Super
Talent for the chance to review the Pico-D and for their continued support of DSM.
review# 512