Today for review I've got a little product called the Sync Blocker. It's a cable that resembles the one that came with you Apple product, like the iPod nano 5th that I'm testing it with but it features a selector switch on it so you can select either charging only or syncing function. The cable also features spring loaded locks on the connection end so it will stay very securely attached to your product. The idea is that we don't always want to sync our products, I know I don't, most time I just plug in to charge and with this cable you can do only what you want. 
Product Name: Sync Blocker USB to Dock connector cable for iPhone / iPod / iPad
Author: Kristofer Brozio
Sponsor: USBFever
Tech Specs,Features or the Basic Info:
Sync Blocker USB to Dock connector cable for iPhone / iPod / iPad
Product Code#:UFAF001196
Price: US$12.99
If you are at home, you naturally will sync (and also charge your iPod / iPhone with your PC, however, if were out or at your office, you may just want to charge your iPhone / iPod, if you plug your iPhone / iPod with other computer, of course, it has no problems, just that it may have some little disturbances to you.
Here we have this cable for you to manage your iPhone / iPod. This cable is designed to have 1 button on the Dock connector, one side is as any other ordinary Dock cable for iPhone / iPod. To hotsync with and charge your iPhone / iPod; if you just want to charge your iPhone / iPod, you may push the button to another side, then no matter which PC / laptop that you connected with, it will just drag power from the computer to charge your iPhone / iPod, will not hotsync with.
This is specially useful for travelers.
Features:
– Every iPod / iPhone user needs one to ease their worries and problems with charging and / or syncing with their iTunes library.
– 45 inches (or " 115cm) long sync and charge cable makes this portable and easy to take along
– Safely charge your iPod / iPhone from any computer without the hassles
– Protects your music from being overwritten and erased
– Plug and Play with no more warning messages
– Works with iPod / iPhone power adapters, so this cable is the solution
– 2 Modes: either Block iTunes to charge, or Connect to iTunes to sync & charge
– Light Weight, compact, stylish, convenience
– Synchronization and battery charging at the same time or separately through USB port.
– No need to bring AC Adapter and cradle during travel.
– 1 Sync-Charger for 2 separate functions, save space for your home and office.
– USB to iPod / iPhone Connector
– Compact and lightweight
Specifications:
– Length: 115cm (or 45 inches), approximately
– Net Weight: 29g approximately
A Better Look at Things:
The Sync Blocker cable come sin a small box, and inside you'll find the cable wrapped in a plastic bag.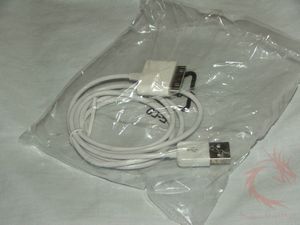 For the most part the cable looks exactly like the original cable from Apple you got with your product.
The difference of course is the connection on it, you'll find a small switch so you can select charge or sync.
There is another nice feature with this cable as well, it locks in place. On each side of the connection are buttons that you push in to unlock the cable from your iPod, they're spring loaded so when you plug it into your device it locks in place.
Installation, Testing and Comparison:
Here's the cable that comes with the iPod nano, and the Sync Blocker together:
Here's the two connectors compared:
Well to use it, there's not much to it, just connect it to your iPod, iPhone etc and you're ready to go:
It's bigger, but not wider than the original cable so it fits just fine even with a case on.
People might wonder what the point of this cable is, well it's so you can select what you want to do. I know when I plug in my iPod it's normally just to charge it. Sure I sync, but not every single time, and I don't have a need to access it every time either. Using this cable will allow you to just charge it, meaning you get power but no pop ups telling you the iPod is connected and iTunes won't auto launch if you have it set that way.
I like this cable actually it works and it works just fine.
It's inexpensive, you could call it a replacement cable for your original one.
It seems well made, it is actually just slightly longer than the OEM Apple cable, which is a good thing
The locks are a nice addition, and they seem strong.
Summary and Comments:
The Sync Blocker cable is a great little product, it's inexpensive and it does what it's supposed to do.
If you go to the Apple store you'll find a replacement cable for $19 plus shipping and it's just the same cable. The Sync Blocker cable though is only $16 shipped to your door and it offers much more than the standard cable does.
If you're looking for a replacement cable then get this one, or even if you're looking for a spare this would work fine. It seems the same quality as the original, but with some added features.
DragonSteelMods gives the Sync Blocker USB to Dock connector cable a 5 out of 5 score.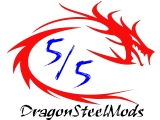 Pros:
+Inexpensive

+Actually useful

+Slightly longer than original

cable

+Locks in place

+Simple and easy to use
Cons:
review# 664
Disclosure: This product was given to DragonSteelMods for review by the company
for review purposes only, and is not considered by us as payment for
the review, we do not, never have, and never will, accept payment
from companies to review their products.
To learn more about our review policy, testing methods and ratings please see this page.