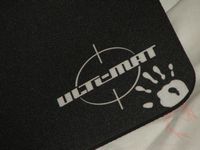 I've taken a look at a few Ulti-mat
brand mousing surfaces and for the most part they're fairly decent
overall, but not perfect. Today I've got their newest pad called the
Breathe F-X3 and it's similar to the other Ulti-mat pads I've looked
at in that it's cloth and has a non-slip backing to it, but the F-X3
is larger than the others. I've tested it with three mice I've got on
hand, so read on to learn more about it…
Product
Name: Breathe
F-X3 Cloth Mousing Surface
Author: Kristofer Brozio
Sponsor: Ulti-mat
Tech
Specs,Features or the Basic Info:
The Ulti-mat (Heavy) Breathe
F-X3 is our new fabric mouse pad manufactured specifically with you,
our customer in mind. Over the years, our customers have provided us
with feedback and enhancement requests which proved instrumental in
the creation of this new and innovative mouse pad. Breathe F-X3
provides you with the high quality fabric your are accustom to, on a
much thicker non-slippery rubber base that keeps this mouse pad
steady on any surface, even under extreme use. Breathe F-X3 is the
perfect choice for hardcore gaming and graphic designing. The
Ulti-mat Breathe F-X3 is compatible with all types of mice and is
specially designed for users who require a larger mouse surface. Our
Breathe F-X3 provides you with a high quality cloth mouse pad at an
affordable price.
Specifications:
Material: HEAVY Fabric
Size: 380 mm x 320 mm x 4 mm
HEAVY (14.97inch x 12.61inch x 0.15 inch)
Compatibility: All
Packing: Blister + Carton with
holder hole
Technical information:
– Fabric surface
– Natural rubber 4 mm (0.15
inch)
A
Better Look at Things:
The Ulti-mat Breathe F-X3 comes in
sort of two boxes, one is the cardboard slipcover and the other is
actually a plastic box.
The Breathe F-X3 is a cloth pad so
it's very flexible and you can easily roll it up to take with you if
need be. The surface is smooth and you'll find the Ulti-mat logo down
in the bottom right corner.
It is a large sized pad, so you'll
need some extra room on your desk for it.
The back is a rubber non-slip
surface, and the pad is fairly thick, but soft.
Testing:
I tested the Breathe F-X3 with
three mice, the Logitech G5 V2, the SteelSeries Ikari Optical and the
Microsoft Sidewinder X8.
With the SteelSeries and the
Logitech I had no problems at all with the F-X3 pad, all tracking was
perfectly smooth and both mice worked fine, but with the Sidewinder
X8 I had a big problem. The X8 just couldn't track very well on the
F-X3, it skipped all over the place and just wasn't an enjoyable
experience to use with this pad.
I use the X8 as my primary mouse
right now, so that's a problem, I just can't use this combination of
mouse and pad together.
If you read the description it
does say that it works with all mice, I'm guessing they didn't test
with the Microsoft mouse. The only thing I can think of that might
make a difference is that the X8 uses a blue colored laser or diode,
that might make the difference, or maybe not…
Using it with the other two mice
were fine, I had no problems no matter what I did, fast or slow,
gaming and just regular usage, it all worked as it should.
Summary
and Comments:
The Ulti-Mat Breathe F-X3 is not a
bad mousing surface if you've got the right mouse to use with it. Two
of the three I tested worked perfectly fine with the third one not
acting quite as it should with it skipping and jumping around a bit.
Overall it's a nice pad, it seems
well made, and it offers a nice large surface.
DragonSteelMods gives the Ulti-mat
Breathe F-X3 a 4 out of 5 score.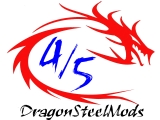 Pros:
+Well made
+Large
+Non-slip backing
+Mouse glides across the surface
+Decent tracking ability with most
mice
Cons:
-Not compatible with all mice
I
would like to thank Ulti-mat for the chance to review the Breathe
F-X3 mousing surface and for their continued support of DSM.
review# 599