Today I have a video review for you of a unique Bluetooth portable speaker called the TouchTone from id America. What makes this speaker really interesting I think is the touch controls that you use to control the functions of the speaker. The speaker sounds very good, but the battery life isn't the greatest at all sadly. Read on to learn more..
Tech Specs,Features or the Basic Info
The compact wireless speaker delivers stunning audio with a deep thumping bass and a crystal clear treble.
Features
Connect to your iPhone, iPad or other Bluetooth® enabled devices wirelessly
Seamlessly control music playback, adjust volume, answer/end phone calls
Conveniently receive phone calls during music playback with built-in mic – perfect for conference calls
Powerful dual drivers deliver deep-bass and clear-highs in a compact package
Intuitive Touch Control
The intuitive touch sensitive interface located on the top surface of the TouchTone controls music playback, adjusts volume, and answer/end phone calls seamlessly.
Aux-in Playback
Included aux-in cable allows connection to any devices with audio line-out port to connect to TouchTone and utilize it as a stand-alone speaker.
Convenient Charging via USB Cable
The included microUSB cable charges the TouchTone conveniently from laptops or any other USB outlets for ultimate portability.
Specifications
Built-in rechargeable Lithium-ion battery
4 hours of battery life for music playback
33ft wireless range
Bluetooth A2DP V3.0
USB voltage DC 5V
2W x 2 power output
Price: $79.95 from id America site
Price: $79.95 from Amazon at time of review
Video Review
Photo Gallery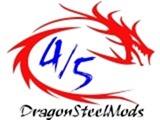 review# 793
Disclosure: This product was given to DragonSteelMods for review by the company for review purposes only, and is not considered by us as payment for the review; we do not, never have, and never will, accept payment from companies to review their products.
To learn more about our review policy, testing methods and ratings please see this page.