Unboxing
The TankBot comes in a rather large plastic box with a window on the front showing the TankBot itself, the back has plenty of information to read and it's really the instructions.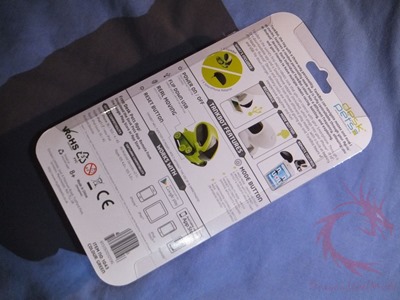 Inside the box you'll only find the TankBot and the infrared transmitter
The transmitter has batteries in it already, they're the small watch batteries. On the bottom you'll see the battery door, on/off switch and the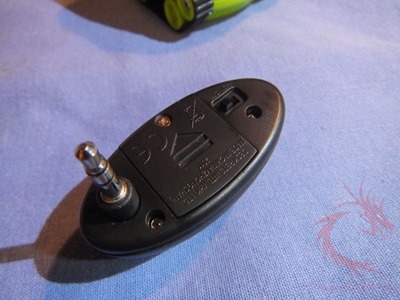 On one side you'll see the infrared LED which is the transmitter that sends the signals to the TankBot.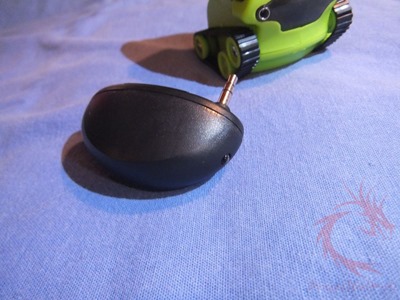 Here's the TankBot itself,  it's kind of hard to tell in the picture but the front is semi-transparent, you can see through the cover and see the circuits inside and there are LEDs that light up when you're using the TankBot.
The TankBot is plastic of course, but pretty much everything is these days. It's lightweight and seems well made overall. The TankBot I received for review is green obviously but there are several other colors to choose from.
The TankBot charges via a standard USB port, on the back you'll find a flip down USB port. On the top of the TankBot is a button which is to power the TankBot on or off and it's used for changing the modes as well.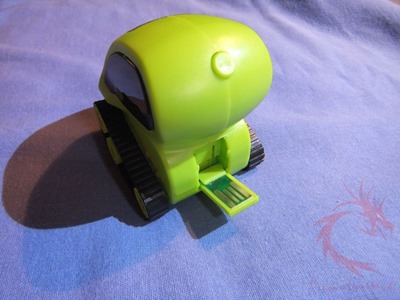 The TankBot is a tank so it has treads that allow it to work on most any surface besides just your desk.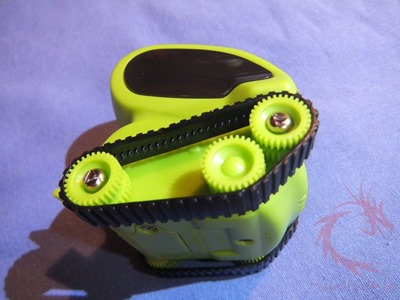 There is a battery door on the bottom of the TankBot but that's about it.