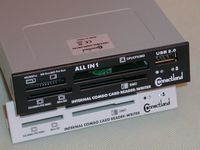 Quite a few types of devices out there today use some sort of memory card to store their data on, be it music, photos, games etc. What I've always wondered is why don't computer manufacturers include card readers as a standard feature on their computers. Yes some do, but most don't, so what you need to do is go and buy a separate card reader for your system like the one I have today for review from USBGeek. The Internal Card Reader with USB 2.0 is just that, a card reader with a couple extra USB ports on it, no audio ports, no firewire, none of that stuff. How many people actually use all those ports anyway? I know I don't, but I do use a card reader all the time and my USB ports. So this product is simple but yet right on with what is needed by most people.
Internal Card Reader with USB 2.0 from USBGeek
Reviewed by: Kristofer Brozio AkA Dracos
Sponsor: USBGeek

Tech Specs,Features or the Basic Info:
Internal Card Reader with USB 2.0 from USBGeek
Features:
Easy to install, compact, streamline design on its shape and lightweight.
Supports direct data transfer between different types of memory cards.
Supports hot swapping betwteen memory card.
LED indicator for power and activity.
Compliant with USB 2.0, transfer rate up to 480Mbps.
Provided with 3 panels for interchange.
Supports Windows XP/2000/ME and MAC OS 9.x or above without additional driver.
Size: 100 x 119 x 25 mm
Support Cards:
Compact Flash I & II/ Micro Drive
Smart Media
SD/Mini SD/MMC/RS-MMC
Memory Stick/Memory Stick Pro/Memory StickDUO/Memory Stick Pro Duo/Magic Gate Duo/MS-Select
Contents:
Internal Card Reader with USB 2.0
User's manual
4 screws
Price: US$ 15.00
A Better Look at Things
:
Checking out the box, we find that the Internal Card reader is actually a Connectland product, no problems there, I've never had a bad Connectland product.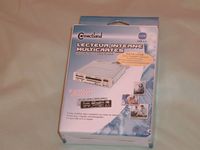 The back of the box of course features all the specs listed in a couple languages.
Unpacking the box we find the reader itself wrapped in a plastic bag for protection, along with a two extra covers so you can match your system. The reader comes installed with a black cover and Connectland includes an off-white one and a silver colored one as well.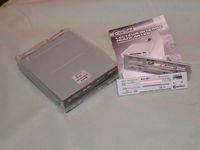 It's just a basic device that does what needs to be done, no extra frills or stuff that really won't be used, I think that's why I like it so much. It does have two LEDs on it, one to indicate power and another that blinks indicating activity.
The unit is actually a solid one piece thing with a single cable with USB header connection coming out the back. There aren't all sorts of wires to contend with and installation should be very easy. The interchangeable covers just snap on and off very easily.
Installation, Testing and Comparison
Installation is very easy indeed, the Internal Card Reader from USBGeek installs just like a floppy drive would, a couple screws, hook the cable to your motherboards USB header and your all set.
I was going to run all sorts of tests on this product and post a bunch of graphs for you to see, but I looked at my results and found the same thing that the other card readers I have, and have reviewed, told me, the speeds are fine, and only limited to the speed of the memory card or USB device that you connect to it. So if you connect a slow USB thumb drive or a slow memory card, of course it's going to be slow to read, write and transfer your data, that's just how it is. This product or any product like it isn't going to speed up a slow card or slow thumb drive to make it run at super speed, it just does what it's supposed to do.
Summary:
I have other card readers that have mini-USB ports on them, firewire ports, and audio ports as well, but I've never used them, they just sit there empty. This product is just right for the average user, it's something that I can say go and get it if you need a card reader. It's simple, easy to install and does what is required of it, and for $15 it's a great deal.
DragonSteelMods gives the Internal Card Reader with USB 2.0 a 5 out of 5 score and our Recommended Award as well.
Pros:
-Very easy to install
-Simple and easy to use, nothing that won't be used
-Solid and sturdy, well made
-Multiple face plates for cosmetic compatibility
-Low price
Cons:
-None
I would like to thank USBGeek for the chance to review the Internal Card Reader with USB 2.0 and for their continued support of DSM.