Up for review today I have the Kingston DataTraveler Generation 3 or G3 USB flash drive. The drive is 32gb capacity and it's one of the latest from Kingston. The G3 is very small and lightweight making it portable and easy to take with you. It's a flash drive made for storage, how exciting is it really? Kingston also has an optional suite of software you can download for the G3 making it a bit more usable and user friendly that features things like a web browser, photo viewer and more.  The drive isn't one of the fastest out there but it's not one of the slowest either, it falls about the middle in terms of performance really. Read on….
Tech Specs,Features or the Basic Info
Kingston Generation 3 Data Traveler USB Stick – 32GB
Original Kingston Generation 3 data traveler USB stick – 32GB.
The new generation of a Kingston best-seller is here! With capacities up to 32 GB, the reliable DataTraveler Generation 3 (G3) is ideal for your important documents, music, video clips and favorite photos that can be stored and retrieved in a flash. Available in fun colors by capacity, it's a perfect fit for the office, home, school and wherever you travel. A well-built cap protects the USB plug and your data.
Technical data:
– Capacity: 32GB
– Convenient: sturdy loop supports most key rings
– Simple: just plug into a USB port
– Practical: cap protects the USB plug
– Guaranteed: five-year warranty
– Fashionable: available in multiple colors by capacity
– Customizable: Personalization program available
– Dimensions: 2.59″ x 0.42″ x 0.88″ (65.68mm x 10.66mm x 22.37mm)
$38.29 / 29.60 EUR
Manufacturer link: http://www.kingston.com/us/usb/personal_business#dtig3
The Kingston G3 was provided my My Trendy Phone for review where you can find iPad and Tablet PC Accessories, storage and all sorts of PC Laptop Accessories.
Unboxing
The Kingston G3 just comes in a cardboard hang or retail style package. It's the plastic blister where you can see the drive on the front and then some basic specs on the back.
The drive I got for review is red and white which means it's a 32gb drive. Kingston has color coded them, if you get a blue and white drive it's 16gb and the yellow and white is 8gb. The front or top has the DataTraveler G3 logo with the capacity. The drive is all plastic basically making it lightweight and it's small at less than three inches long and not even half an inch thick and a little more than three-fourths of an inch wide at the widest point.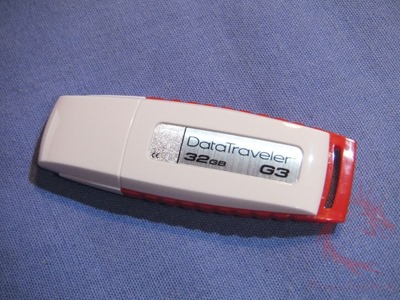 On the back or bottom is a plastic insert with the Kingston logo. The end has a loop so you can attach it to your key ring or book bag or wherever you need to.
The cap is removable and you can secure it to the back of the drive for safe keeping.
Testing and Usage
I also have the older Kingston DataTraveler  DT150 which is a 64gb USB drive which is much larger than the G3 really.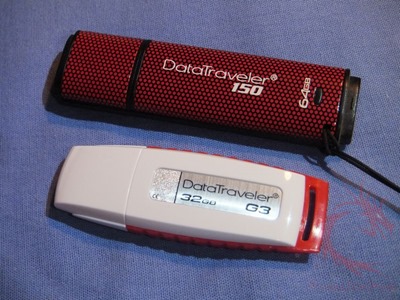 For comparison I realized I don't have any 32gb USB drives, I have two 64gb drives and some smaller, much older ones.
For the comparison I put the DataTraveler G3 up against my DataTraveler DT150 and my older OCZ Rally2, both of which are 64gb as I mentioned.
For testing I used both ATTO Disk Benchmark and Crystal DiskMark.
First up is ATTO: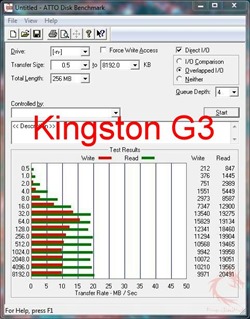 I thought I would right these up as text for you as the test results are a bit hard to see. The max speeds they all reached are in order or fastest to slowest:
Read:
Kingston DT150: 32696
OCZ Rally2: 32483
Kingston G3: 20491
Write:
OCZ Rally2: 16549
Kingston G3: 15829
Kingston DT150: 15152
So as far as read speeds the G3 is kinds slow, but it comes in the middle for write speeds surprisingly.
Next test is Crystal DiskMark: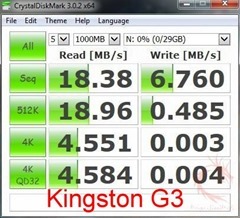 I don't think I need to write this up as text as the results are plain to see. The G3 performs at about half the speed for writes, and slightly more than half for read.
The Kingston G3 isn't exactly the fastest USB drive out there obviously.
It's not a big deal but the G3 doesn't have an LED indicator on it. I personally like having that little flashing light to let me know it's working and plugged in.
As a little bonus, for this particular USB drive and a few others by Kingston you can get the urDrive Software to help you get more use from the flash drive.
What is urDrive?
urDrive is software exclusively available for downloading to select Kingston DataTraveler USB Flash drives.
Active Storage- Most USB Flash drives offer passive storage, which simply allows users to store and retrieve their data. urDrive offers engaged, active storage that allows you to easily access and organize your files, photos, videos and music. Other features include a built-in Photo Viewer, Web browser and music player.
You can download it or learn more about it here: http://www.kingston.com/us/usb/urdrive
I didn't bother with the software, but it does seem useful especially the web browser. Personally I have an IronKey that goes everywhere with me that allows me to plug it in to any computer and access my files and browse the web securely so I don't have need of another one really. If you know anything about the IronKey it's a flash drive that's hard to beat in terms of features it has and its overall usability and of course it's the most secure USB drive you can find.
Summary and Comments
So there you have it tested against two other USB drives, the OCZ drive is rather old and the Kingston is the generation before and this G3 shows some rather slow read and write speeds overall. Normally you expect to see larger drives running slower, but here it isn't the case obviously.
The Kingston G3 is meant to be very portable and it is, it's very small and lightweight making it easy to take with you. You can attach it to your key ring or even just put it in your pocket.
The optional software is nice for those that might be able to make use of it.
The speeds of the G3 aren't the fastest I've seen, but they aren't the slowest either. Speed is nice but really how much in a hurry are you? Is a few seconds extra going to make all that much of a difference? I know people are impatient, but I'm not doing anything that requires me to not be able to wait a few more seconds for a transfer to complete and I'm sure you're not either even though you may think so…..
DragonSteelMods gives the Kingston DataTraveler Generation 3 G3 32GB USB Drive a 4 out of 5 score.
Pros:
+Small and portable
+Cap attaches to back
+Optional useful software
Cons:
-Rather slow transfer speeds
-No LED indicator
review# 762
Disclosure: This product was given to DragonSteelMods for review by the company for review purposes only, and is not considered by us as payment for the review; we do not, never have, and never will, accept payment from companies to review their products.
To learn more about our review policy, testing methods and ratings please see this page.