Unboxing
Let's start out with a quick video unboxing and then the standard pictures..
The box is nice looking, you can plainly see the EZ-Clone right on the front and then the back has some info.
When you first open the box you're greeted with the user guide and the EZ-Clone wrapped in plastic.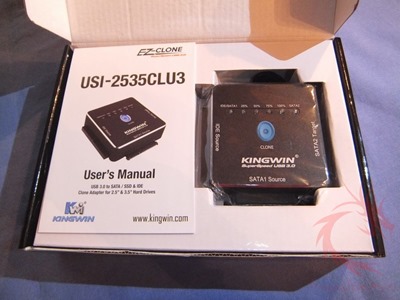 Once you get everything unpacked you'll find the EZ-Clone of course, user guide, zip style bag, and the power supply.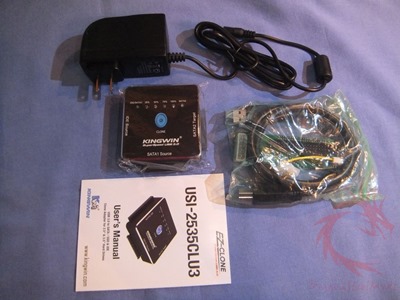 The power supply is the standard kind. Inside of the bag you'll find a USB 3.0 cable, power connection and an IDE adapter.
The PCB board is so you can use both 3.5" and 2.5" IDE drives, the board let's you go from 3.5" to 2.5" in size.
You need power for the IDE drive so Kingwin included a Molex power connection.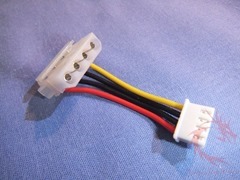 So here's the EZ-Clone, it's a small black box basically. On the top you'll find a series of LEDs that indicate what's connected and the status of the clone operation. In the center is a large blue button labeled Clone which is used to clone the drives connected to it. The center LEDs indicate percentages from 25% up to 100% to let you know the status of the cloning process.
On the front side is the SATA Source while the right has the SATA target connection.
The we have the IDE Source connection on the left side.
Here's the back where you'll find the power switch, power connection, USB 3.0 port and the power connection for the Molex for the IDE drives.
Here's the bottom, nothing special here, just the bottom of the connectors.
All in all the EZ-Clone seems well made with a metal housing so it should last quite a while. The only complaint I might have is the lack of a carrying case to protect the hard drive connections.