Laptops are great for getting work accomplished outside the desktop setting. As they have gotten more powerful, they have also become hotter. These days, if you place your laptop on your lap, you may require some burn cream or an ice pack. In todays Second Opinion review, I will review the savior of laps the Laptop Desk 2.0. The Second Opinion series of reviews is where I will re-review a product that Dracos has already reviewed so you the reader can get a different opinion, or viewpoint of the product in question.
Second Opinion: LapWorks – Laptop Desk 2.0
Reviewed by: Tom Ratas AkA DarthOverlord
Sponsor: Lapworks
In Brief:
Lately, one brand of computer has had a lot of notoriety with the temperatures emanating from their laptops. This would be the Macbook and Macbook Pro lines from Apple Computers.
When Apple moved to the Intel line of processors, their laptops have become one of the hottest, both literally and figuratively, computers in the industry. For whatever reason, the Macbooks and Macbook Pros get extremely hot. As an owner of a revision A Macbook Pro, I can attest to this fact. When I use my MacBook Pro, and sit it on my lap, my thighs look like I have been sunburned. In fact Apple released a statement saying that Macbook are not meant for laptop use.
Here is a quote from Apple:
Do not leave the bottom of your MacBook in contact with your lap or any other surface of your body for extended periods. Prolonged contact with your body could cause discomfort and potentially a burn.
So when Dracos approached me to review the Laptop Desk version 2.0 from LapWorks, I jumped at the chance to test this product.
Editor's Note: HERE is the link to the original Review (opens in new window)
Find more LapWorks products at ShopZilla!

A Better Look at Things
:
The packaging is the Laptop Desk 2.0, a piece of card board packaging with the instructions for use and a plastic bag. It is basic packaging, functional and non-descript.
The Laptop Desk 2.0 is made of black plastic with some rubberized areas for traction on both sides. The black plastic is similar in texture to the Ratpadz GS/XT mouse pads and seems solidly constructed. It is has an interlocking hinge in the middle, with an extendable Support Arm at the base to make the Laptop Desk 2.0 into an angled stand when used on a flat surface.
When extended, the device is 20 inches wide, nine inches across at the ends and 11 inches in the middle.
Find more LapWorks products at ShopZilla!

Installation, Testing and Comparison
The installation of Laptop Desk 2.0 was simple. There are two configurations:
You either open it up; lock the hinge in the middle
or keep it folded and lock the Support Arm into the one of several Position Stops on the opposite base.
For testing, I used a 15 inch Macbook Pro Revision A.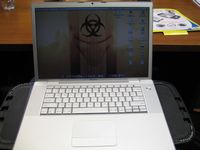 The Laptop Desk 2.0 offers plenty of room for the laptop and even has areas on the side for using a portable mouse, which is definitely a nice feature.
I noticed a marked improvement in the heat dissipation by the laptop, since the vents on the MacBook Pro are on the rear hinge of the laptop, placing it on a flat surface; where there is no obstruction allows for better air exchange. As an added bonus, my legs did not require and ice packs and aloe while using Laptop Desk 2.0.
My favorite aspect of Laptop Desk 2.0 is using it as an inclined stand on other flat surfaces. This greatly increases the viewing angle and makes the keyboard more ergonomic for typing. The only issue I found with this position was if the angle was too steep, my MacBook Pro would tend to slide down.
Find more LapWorks products at ShopZilla!

Summary:
Laptop Desk 2.0 is not a unique device and is certainly not sexy looking; however it is simple, quite functional and has multiple positions for using it in conjunction with a laptop.
For my Second 2nd Opinion review, I give the LapWorks Laptop Desk version 2.0 a 4 out of 5 score.
Pros:
-Affordable Price
-Easy of use
-Rubberized areas for tracking
-Engineered for heavier notebooks (5 lbs and Over)
-Compact for Storage

Cons:
-Sliding of the laptop when used as a desk stand.
Find more LapWorks products at ShopZilla!