Roulette is one of the oldest and most popular casino games around. Dating back to the 18th century, 'The Devil's Wheel' as it's sometimes known, has seen some huge jackpots scooped over the years. Here, we take a look back at some of the biggest wins in history, starting with the earliest – and if you think you can hit Lucky 17, play online Roulette.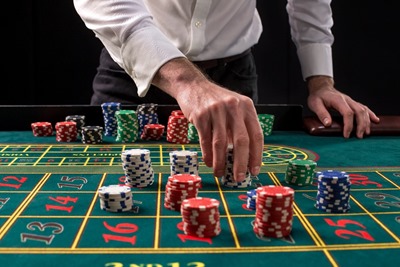 Who? Joseph Jagger
When? 1873
How much? $375,000
Joseph Jagger was the original "Man who broke the bank at Monte Carlo" and the famous casino went on to see a number of big wins. Through his knowledge of mechanics, he knew that the Roulette wheel would have some bias and he spent days analyzing the Roulette wheels at the Monte Carlo Casino. He noted down all the results and noticed that some pockets were being hit more than others. The numbers 7, 8, 9, 17, 18, 19, 22, 28 and 29 were being landed on more than others and thus, not completely random. He took this new-found knowledge to the casino and took advantage of the wheel's bias – winning $375,000 in the process. The casino caught on and removed the wheel from the casino, but it didn't bother Jagger too much – in modern-day money, he'd have won millions.
Who? Charles Wells
When? 1891
How much? Around 2,000,000 Francs
Right, let's start by saying this wasn't all in one visit. Oh no. Charles Wells visited the world-famous Monte Carlo Casino one night in 1891 and won 1,000,000 Francs playing Roulette, apparently winning 23 out of 30 consecutive spins. But that wasn't enough for him, so he returned and tried his luck for a second time. Again, he managed to score 1,000,000 Francs. In today's money, he won tens of millions. It is even believed that Wells inspired the song "The Man who broke the bank at Monte Carlo". Did he have a strategy? We'll never know!
Who? Ashley Revell
When? 2004
How much? $270,000
Ashley Revell's Roulette exploits were cleverly documented in Sky One's mini-series Double or Nothing, in which Revell quite literally goes all or nothing in for a spin on the Roulette wheel. Then 33 years old, Revell sold all of his possessions and took these life savings to Las Vegas, with the intention of blowing them all in the casino. He bet $135,000 on red and waited in anticipation for the wheel to spin and the ball to land in a winning pocket… and it did! As the ball fell in the red 7 pocket, Revell had doubled his money. So, it may not be the biggest win in our list, but it's worth mentioning because that guy had balls!
Who? Mike Ashley
When? 2008
How much? £1.3 million
Mike Ashley may be better known for owning Newcastle United, or acquiring House of Fraser last year as they went into administration, but he is also a keen high-rolling gambler. A member of the Fifty Casino in Mayfair, London, Ashley hit the Roulette table. After spending £480,000 on multiple bets centered around his lucky number (17), he made off with £1.3 million. The bet not only included the number 17 itself, but included black, an odd number and low number (1-18); as well as all splits, corners, streets, and six-line bets that include 17. The larger-than-life businessman reportedly looked at the croupier and said: "That'll do me, thanks very much," and left to rapturous applause from the other punters.