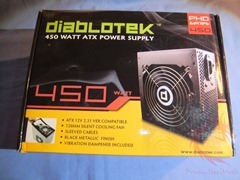 So I'm back with another power supply review today. There are times you don't need a big and powerful PSU, it all depends on your system, if you're not gaming you don't need a lot of power. Up for review today I have the Diablotek PHD450 which is a 450 Watt power supply, so read on…
Tech Specs,Features or the Basic Info
PHD SERIES PHD450 450W ATX POWER SUPPLY
MODEL PHD450
450W Power Supply: With a maximum power of 450W, it delivers more than enough power for entry-level computer systems with entry-level graphic cards.
ATX12V V2.31 Compatible: Compatible with the ATX12V V2.31 standard, the Diablotek PHD series 450W power supply provides maximum power stability to drive the latest Intel and AMD processors.
120mm Fan: 120mm fans provides great airflow in the power supply as well as remove heat from chassis.
Low in Noise: Designed especially for the 450W power supply, the single 120mm fan is purpose-engineered to guarantee cool, efficient performance and most importantly, low noise.
Dampener Included: With the inclusion of the dampener, it lowers the PSU noise and vibration.
Protection: Over current, over voltage, under voltage, and short circuit protected.
High Efficiency: High efficiency up to 78% to save your electrical bill and prolong your PC life by reducing heat in your system.
High Reliable Capacitor: Highly reliable 105°C capacitor provides performance and reliability.
Full Sleeve Cabling: Full sleeve cabling for easy organization, optimizing air flow, and improving cooling in the case.
Well Built: The Diablotek PSDA Series is made out of some of the highest-grade and most durable materials in its price point for a power supply that's more dependable and better looking in every way.
FCC: Approved by the Federal Communications Commission for product safety.
CE: Approved by Conformité Européenne for product safety and environmental protection.
RoHS Compliant: Approved by the Restriction of the Use of Certain Hazardous Substances in Electrical and Electronic Equipment.
3 Years Warranty: Diablotek provides all their power supply unit series with full 3 years warranty service.
Model No.: PHD450
UPC: 843636002938
Series: PHD Series
Type: ATX12V V2.31
Maximum Power: 450W
Fans: 1 X 120mm fan
Input Voltage: 8A@115 / 5A@230 V
Input Frequency Range: 60/50 Hz
Output:
+3.3V@20A
+5V@20A
+12V@30A
-12V@0.6A
+5VSB@2.0A
Connectors;
1 x Main connector (20+4Pin)
1 x 4/8-Pin ATX 12V
4 x Peripheral
4 x SATA
1 x PCI-E (6/8 Pin)
1 x Floppy
Dimension: 6″ x 5.6″ x 3.5″
Weight: 4LBS
Price: $34.99