Installation and Testing
Installation is easy, just plug the receiver into a free USB port and the drives were installed automatically. There is no software of anything else to install, so the ZF 5000 isn't really configurable, what you see is what you get basically. let me correct that, you can go to the Cherry site and download software/drivers for the ZF 5000 but it's only so you can change the tilt wheel function and not the DPI settings.
It did take me about two weeks to really get accustomed to using it because of the odd shape but I've come to like it very much. I've been using it everyday as my main mouse for general usage and any and all gaming I do.
I found the ZF 5000 to be perfectly fine for everything, tracking is excellent, the mouse is very responsive. I didn't notice any kind of lag from when I did something to when it happened on the screen.
The mouse has no power button so I would assume it shuts down when not in use to conserve power, but it's not listed in the specs that it does this. Even so I didn't notice any type of lag when I would come back to using the mouse after not using it.
Battery life seems fairly decent, it lasted me a little over two weeks of continuous use, 12-16 hours per day, which I think it fairly good. You can use it while charging and the charging cable is very long and thin so you really won't even notice it. Sure it's not the best battery life for a wireless mouse, but it's not bad. it does use a removable battery which is basically a standard AA style, so you could replace it if need be and maybe even use a regular alkaline battery.
One of the things I do not like  is the fact that the USB charging cable is proprietary so if you lose the cable you're out of luck as you won't be able to charge the mouse anymore.
The build quality of the ZF 5000 is great I think, it's plastic of course but pretty much every mouse is and it's fairly heavy really, but overall it feels well made and it's comfortable to use once you get accustomed to it.
I really like the ZF 500 mouse, but I found that the rear rubber coated palm section is removable.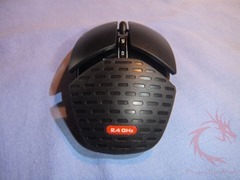 I found this out because my goofy dog, who likes to jump on my desk when I'm not around and see what's going on, one day decided to eat it. Somehow she got just the palm section off of the mouse and destroyed it, and left the rest of the mouse intact. I should note my dog is an American Pit Bull Terrier and honestly I'm very surprised that there's anything left of the mouse at all!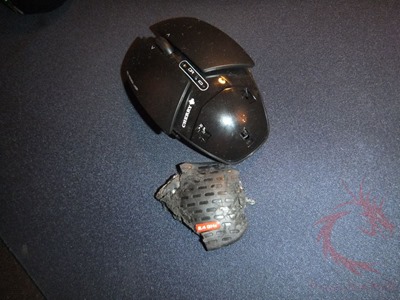 Sadly you really can't use the mouse like this, I mean I guess you could but it's very uncomfortable and doesn't feel right in your hand. So I'm sad now, I finally found a wireless mouse that I like and I can't use it anymore…
So the build quality of the ZF 500 is decent, as long as you don't let your dog get ahold of it.