Installation, Testing and Comparison
Installation couldn't be easier, just plug it into your power socket and then start plugging in Ethernet cables and you're pretty much done.
Here it is sitting on top of my Verizon FIOS router/modem. There is no dedicated up-link line, you can just use any to connect it to your network.
The LED lights let you know what's connected and at what speeds. I've got seven things connected but one of the those is the internet connection so really I've got six. According to the lights I'm running two things at Fast Ethernet speeds and five things running at Gigabit speeds.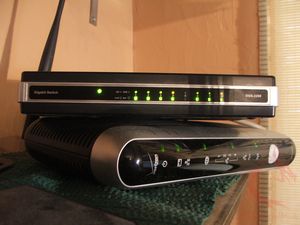 On my network I've got another switch over by my HDTV that is used for my HTPC, Xbox360 and Media player along with whatever else I might plug in as well. The switch is the Netgear 8 port GS608 model.
In the following picture there's four LEDs lit, three are for things connected to it and the one is the connection back to the network.
I tested the speeds of the two switches I have and they came out the same really, so there's no real difference there. I tested them just using a NAS box and transferring files back and forth on them, they were pretty much identical with no connections and with connections on the switches.
Then I hooked up my Seasonic Power Angel to both of the switches to find out how much power they were drawing.
The Netgear switch basically had three devices on it and the connection back to the network, so four connections total and the Power Angel said it was pulling 4 watts of power.
The D-link switch again has seven connections, six of which are devices and one is the connection to the network making seven connections and the Power Angel said it was pulling 5 watts of power.
So basically it takes the Netgear 4 watts of power for four connections, while the D-Link uses 5 watts of power for seven connections. 
I think I see a difference there, to me it looks like the Netgear is pulling more power than the D-Link is.
The D-Link will also cut power to those connections that are not transferring data, so the power usage should drop as this happens.
The cost of the Netgear switch is about $60, while the cost of the D-Link is about $43. Those prices are from Amazon at the time of the review. The D-Link is nicer looking aesthetically I think, but it's larger overall.
If I had to do it over again I would have bought two of the D-Link switches honestly…
Neither of these switches have any advanced functions on them, you can't access them for your network, they're both just plug and play, so they're very similar.
You can say that not being able to configure settings is a bad thing, but how many of us really need to do that?! It works and works fine just right out of the box.